Pulau Pinang (Penang) ~ UNESCO World Heritage Site
Georgetown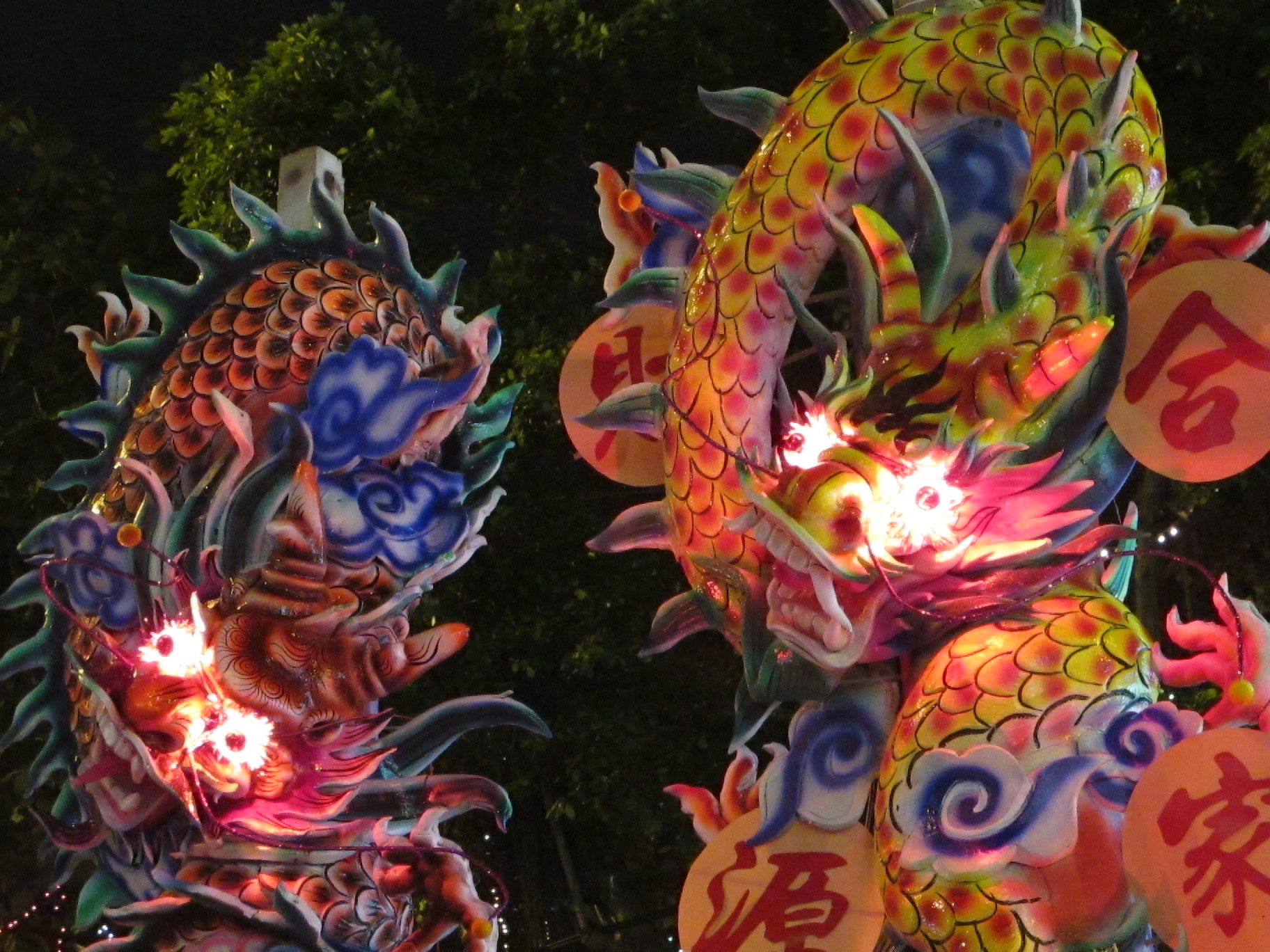 During weeks leading up to chinese festivities in georgetown, don't be surprised to find makeshift performance stages being set up on streets and alleys - blocking access completely. Chinese operas and Puppet shows are very much alive in Penang as well as dragon and lion dances especially at temple entrances.

Driving around Georgetown is complicated. The one-way street system is confusing and weekend traffic is debilitating. My travel partner likens it to a game on the pinball machine! The island itself has its own identity and pace only islanders are familiar with. Trishaws can be seen coming down the opposite way on a one-way street, totally oblivious to the obvious congestion they cause along the way. Octogenarians driving around in their little beetles and old Morgans at 30kph also oblivious to the fact that the streets have been converted to One-Way routes some time back . and motorbikes.everywhere, anarchy rules on the streets of Georgetown!
The local municipal council has in fact started to include pavement walkways for tourists and shoppers alike in areas like Lebuh Acheh (Acheen Street) and Lebuh Armenian. Forget about the traffic, the confusion, the haphazardness and let yourself blend into the surroundings. Then, Georgetown will begin to open up to those willing to experience.
The daily working lives of the older folk who cling on dearly to their trades that are fast disappearing due to technology and mass production. They are still there. continuing with their lives' work in dimly lit shops and in the back alleys. The following are a few still operating as their forefathers or employers have been for years.
Boat Maker & the Koay Clan
Sad to inform that the Koay Clan jetty was torned down in 2006 to make way for development.. However, we maintain the information on our site as to the reason why George Town received its UNESCO WHS status in 2008. It was all about the uniqueness of the jetties and their communities. It is a shame that the Koay Clan jetty was torn down prior to the listing in 2008, but with more emphasis, it is hoped that the remaining jetties will be preserved as it should be...for its community..those who live, work and maintain their livelihoods at the jetties. Not only for tourists ...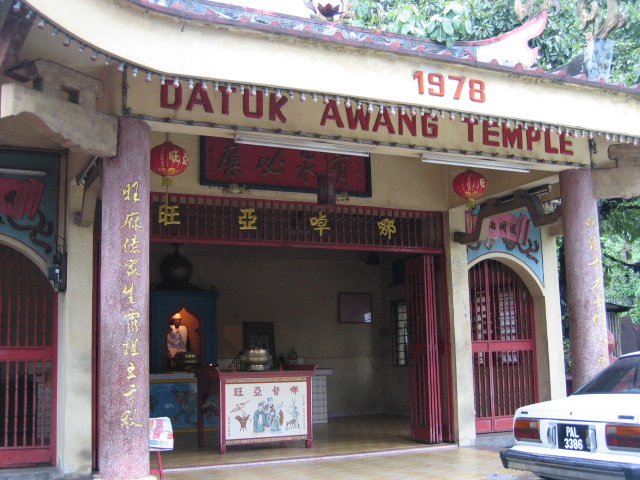 Unfortunately the Boat Maker passed away some 2 years ago and the Koay jetty was demolished sometime then. For those wishing to experience a living community on stilts, head to the the other jetties along the waterfront. The jetties are of different surnames namely Lim, Lee, Tan, Yeoh, Chew and the Chap Seh Keo (mixed surname) jetties. Many of these were once home to Chinese port labourers and some have existed since the 1890's despite the wave pounding and the threats of lifestyle extinction over the years. There are even some homestays there for budget travellers especially at the Chew Jetty. For more information, you can log into : www.mychewjetty.com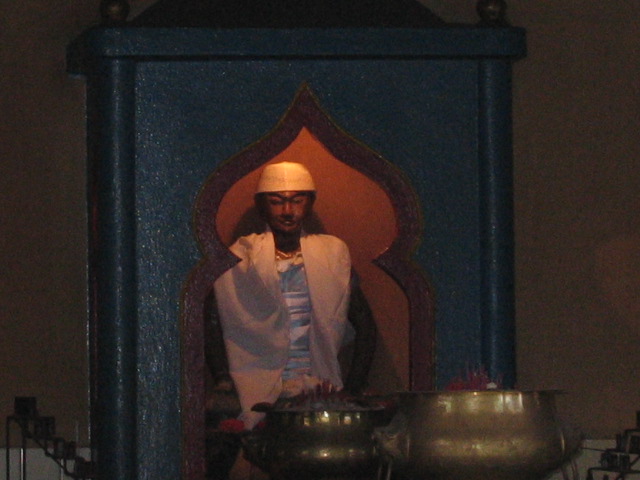 The Koay clan are are the descendants of Arabian and Middle Eastern people and were successful seafarers and traders. When they arrived in Penang having escaped from the oppressive Chinese Government in China, they settled in comfortably as they found that the many chinese immigrants in this new land were also from the Fujian province hence speaking the same language and had similar culture. The Koay immigrants found work as as traders, port coolies and boatmen. The Koay jetty is the last clan jetty to be built in Penang.
At the T- junction of Peasgrave Street, the street leading to Peng Aun jetty and Koay jetty is a small temple called the Datuk Awang Temple. It's strange to see a deity that is dressed distinctively Muslim being worshiped in a temple, where joss sticks are offered at the altar. This may have something to do with the history of the Koay clan. The 5th generation Koay descendants were faced with attacks from the Han Chinese extremists. This was due to a retaliation when it was found that a group of Hui muslims had supported the Ming dynasty government to put down a rebellion in Fujian. To protect their village and people, the Koays downplayed their Hui identity. They intermarried with Han women and allowed these women to rear pigs, so that they blended into their surroundings.
In 1975, the Koay community in Penang published a notice which was to be framed and hung on the wall by every clansmen. The notice provides the generational names to be followed by the Koay clan for forty generations. The present generation of Koays can trace their geneology back to between 17-22 generations.
'When they reached Penang Island, they found that they shared the same language and the same culture as most Chinese immigrants from Fujian. The only difference was their religion. In Penang, they worked as traders, port coolies and boatmen. They were also in charcoal business. They rented four houses and lived together as a clan commune at Noordin Street. Around 1950s, they established a jetty at the end of Weld Quay (C. Y. Choy Rd.) It was the last clan jetty to be built. They found that they needed support from mainstream Chinese community in Penang.' - excerpt courtesy of koay jetty
Lau Woon Chwee, the boatmaker who had his workshop not far from the Koay jetty was known for his skills at making boats for the dragon boat races that are held every year on the fifth day of the fifth moon of the lunar calendar. The mast head of the dragon pierces through sprays of water, gnarling at competitors as the long, slender body powered by 26 able bodied men push the boat to maximum speed. The race itself has drawn a great many contestants not only from Asia but internationally. So grab your bak chang (meat dumplings) and head off to Teluk Bahang dam for some great fun.
Further down from the boatmaker's is the mangrove area. Mangroves used to line the length of the beach here. Unfortunately due to development, much has been removed. The recent Tsunami that hit Penang's shores has now prompted the government to restore the mangrove swamps and to protect those existing. We hope this includes the mangrove areas along the jetty areas. (the mangrove at koay jetty is in serious need of some cleaning up though).
The Chew Jetty
This jetty has a huge neon signed entrance facing the main road. It is hard to miss. Plus, there's a great bunch of food stalls by the side that serves char koay kak, wanton mee, seafood, char kwai teow, hokkien mee and all the other penang food that you've probably not heard of and have no idea what is. If you're interested, we have a list to help you identify some at penang foods
The Chew jetty is the only jetty that actively promotes their location as tourist friendly. However, the throngs of tourists poking into their homes unannounced and being intrusive and all , has kind of taken a toll on some of them. Word of Advice - those grubby looking shacks are homes. They may not look much to us, but they are precious to the homeowners. Please be mindful.
At the end of the jetty sits a temple and on the 8th night of Chinese New Year, it comes alive with prayers and incantations, fireworks and throngs of worshippers.
On other days, the fishermen moor their boats, old folks sit by the water front, and otters come out to play and rest on the floating platforms
An idyllic life that has hardly changed in the past century
For more on chew jetty : my chew jetty

The Penang Heritage Trust
No. 26, Lebuh Gereja (Church Street), 10200 Penang Malaysia. Tel: +6 04 264 2631 Fax: +6 04 262 8421 Email: phtrust@streamyx.com website: www.pht.org.my

A non-governmental organisation set up for the conservation and preservation of Penang's Architectural, Cultural and living heritage. The centre is run by volunteers, who are passionate about conserving their heritage. A number of the volunteers also conduct guided heritage walk tours, please click to Heritage Walk Georgetown for more details.
PHT's Mission:
We believe that development guided by respect for community, heritage and environment will improve our quality of life and prosper our local economy. Imagine the Prangin Canal area reclaimed as a people's park and the derelict row of shophouses restored. Imagine our abandoned warehouses turned into a city campus for one of the world's top universities. Imagine walking through car-free streetscapes and taking a tram around George Town. Imagine Penang Hill developed with care keeping its character as a historic hill station and forest reserve.


Over the last 25 years, the Penang Heritage Trust has made a difference to Penang. Imagine what we can do with your support and sponsorship!
You can help Penang Heritage Trust
1. Position Penang as a regional heritage hub
2. Grow our heritage community
3. Keep alive the soul of our city
4. Conserve our commons
5. Save our heritage
Get in touch with PHT or even join their numerous talks and events, https://www.facebook.com/PenangHeritage/ , they're a helpful bunch of people.
The sudden revival and emerging interest in George Town or Penang for that matter is changing it's landscape quicker than what we could have imagined in 2008. Numerous hotels and cafes/restaurants, museums, and other entertainment outlets have sprouted over a short time ...there has been a lot of interest in the old sector for its charms and its investment opportunities (or rather as trophies for the wealthy). Families who have lived and borne generations as well as old trades that have been operating for decades here have and are being removed as landlords and property owners sell their units to foreign investors or raise rentals to a level that the urban poor can no longer afford to stay.... Elsewhere on the island, environs are being torn apart and converted into multi complexes , homing the well to do and providing holiday homes to jet-setters and their clones. Penang is chasing the ever elusive dream and the authorities, in their dream of leaving a more developed and economically independent state, are now singing to the tunes of multi-conglomerates. How much can this island take? The answer should reveal itself soon, my guess..
The old charm is slowly but surely being eroded by those who loved it and those who think it overrated. Not until you have lived in George Town and loved the vibrancy of its community, would you realise what you have taken away will be difficult to replicate. George Town is about its people , its vibe; open doors, and its quirkiness . It is not about all about restored , squeaky clean units with chained up wooden slated doors, ready for the odd visitor , a holiday home. The spirit whittles away.....

Little old lady, evicted from her a place she called home in 2005. What has this place been converted to now? It is the 7 Terraces,
The Seven Terraces and Kebaya Nyonya Restaurant
Dr. Sun Yat Sen's Penang Base
120 Armenian Street, 10200 Penang. Open Daily from 9.30am till 5.30pm daily. Admission : RM5 per person
This is a gem of a place. Restored to its original, 120 Armenian Street hold tribute to Dr. Sun Yat Sen , China's foremost founding father of Nationalistic Ideals. Dr. Sun's revolutionary ideas and ideals maintain an influence in political and socio-economic policies in some countries even to date.

The Admission fee is only RM5 per person and when we visited, a Ms Goh gave us a thorough, most intriguing tour around. It turned out that Ms Goh produced a movie on Dr. Sun Yat Sen's life in Penang. All locations were filmed exclusively in Penang and the movie previewed to a very approving crowd in 2007. The movie, Road To Dawn is available in DVD at the premise itself. This is the first China produced movie to be filmed in Malaysia and was filmed in August and September 2006. The grand premier was held in the Great Hall of the People in Beijing on 28 June 2008. For more on this , go to : http://www.arecabooks.com. Oh by the way , just a little tip here for book buffs.. if you pick up a book published by areca books at 120 Armenian Street - you may get it slightly cheaper than elsewhere..
The premise itself has lots of information tacked along the length of both sides of the wall.
The guided tour takes about 1/2hr to 45 minutes but visitors can roam about the ground level. To the back of the house is the kitchen which has been completely restored and shows an all equipped old fashioned kitchen worth browsing around at.
This shophouse is a fine example of restoration work. For more on 120 Armenian Street, go to : www.lestariheritage.net
For more on the Sun Yat Sen Museum, go to http://sunyatsenpenang.com/

The Teochew Puppet and Opera Museum
122 Armenian Street, George Town, 10200 Penang.
Open daily (except Mondays) 9 am – 5 pm.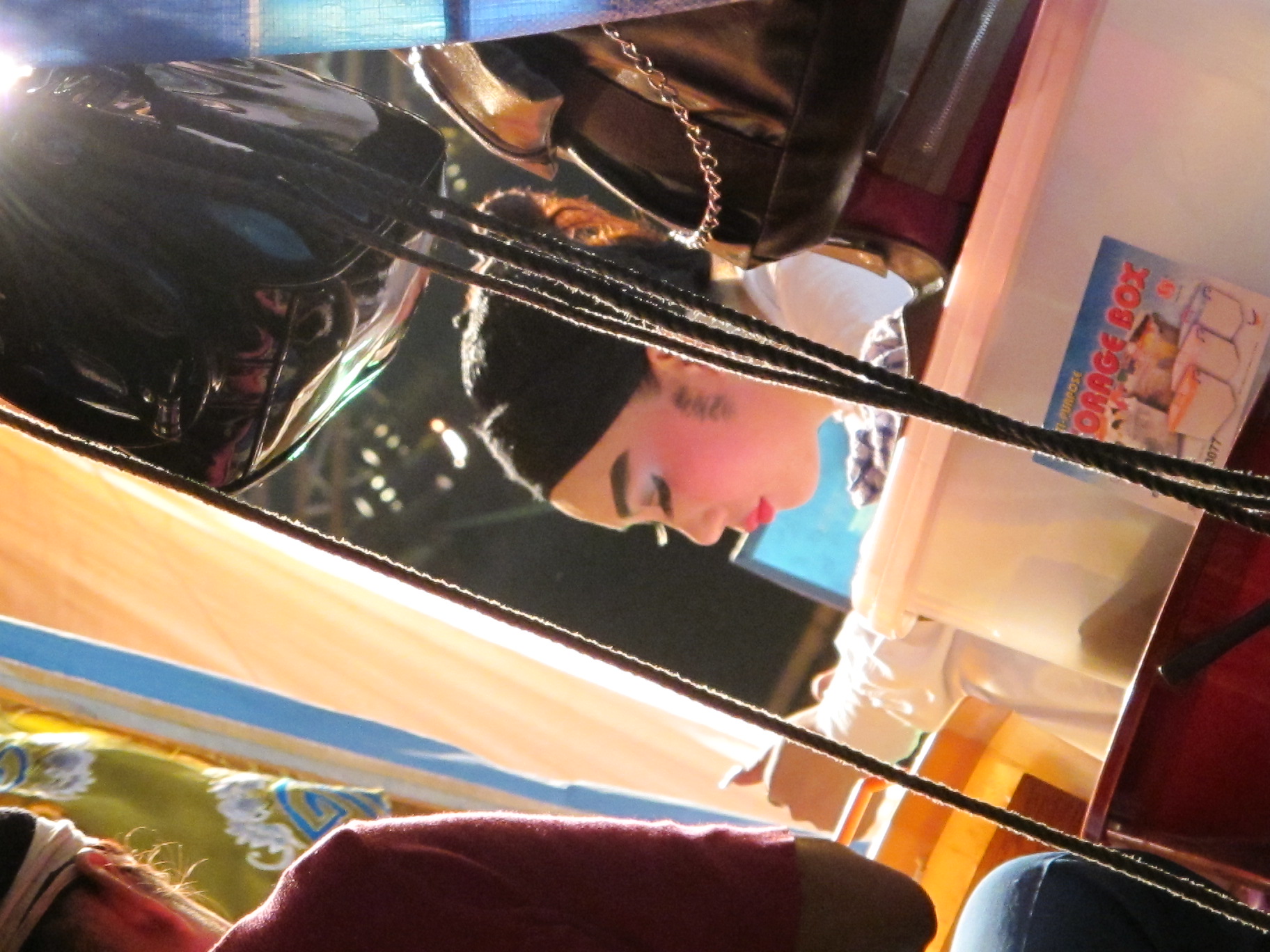 For those interested in Teochew Opera and Puppet Show, a museum dedicated to chinese opera and puppet show provides an insight into the passion of a small group of artisans determined to keep this fine but dying art alive and well into the next century if possible.
When we first got to know the Teowchew Puppet troupe, it was back in 2009 when Ling Goh and family were struggling to keep the puppet and chinese opera interest alive in Penang. Setting up their stage at temples and private functions, they found fewer people had interest in the traditional art form as time went by. But Ling Goh was relentless. Her love for the performing arts egged her to continue . Despite the odds and from the help of a handful of enthusiasts, the 'common people' like you and I are now able to learn more about the intricacies and the delicate nuances of such refined art at the Teochew Puppet and Opera Museum.
Pinang Peranakan Mansion and the Chung Keng Kwee Ancestral Temple

29, Church Street, 10200 Penang. Open Monday to Sunday including Public Holidays from 9:30 am to 5 pm. Admission: RM20 per person.
The Peranakan Mansion sits just across the street from Penang Heritage Trust's office. The large mansion is now wedged between a row of shophouses. In 1893, not long after the prohibition of secret societies imposed by the British administration , the then Kapitan Cina - Chung Keng Kwee acquired 2 properties on Church Street. One housed the headquarters of the rival secret society called the Ghee Hin. The other was the premise of a school , Goh Hock Tung (Five Luck Villa).
entrance into the Chung Keng Kwee Ancestral Temple
Keng Kwee compensated for and relocated the school to a site on Chulia Street. The Kapitan built his home and office and named it Hai Kee Chan, or Sea Rememberance Store. The chinese school was demolished and replaced with the Kapitan's ancestral temple which also served as the family school. The mansion itself reflects a hotch potch of designs, decor and structure that makes the peranakan culture unique - incorporating Chinese carved-wood panels, chinese courtyards and English floor tiles and Scottish ironworks.
For more on the mansion, please go to : www.pinangperanakanmansion.com.my
GTWHI (George Town World Heritage Incorporated)
No. 116 & 118, Lebuh Acheh, 10200 George Town, Penang, Malaysia. Telephone No.: +604 261 6606
Fax No.: +604 261 6605 Email: info@gtwhi.com.my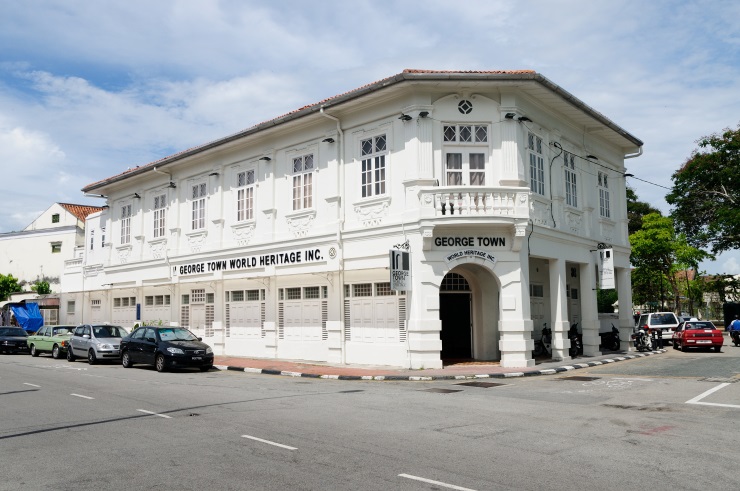 photo courtesy of GTWHI
GTWHI was established by the Penang State Government in 2010 to monitor, promote and preserve the rich history of George Town. The agency itself reports directly to the Chief Minister and is responsible in bringing together a loose community of experts, advisors , concerned parties , civil servants etc in the one goal of ensuring that George Town's legacy will not be lost.
For those who are interested in restoring , preserving your heritage units, GTWHI will be the best place to start. Here, visitors will be able to go through the fundamentals of restoring their units in line with the heritage department's requirements. Also , they would be good to go to , to start on your research in restoration do's and don'ts. Plus, did you know that under the SAP (Special Area Plan) there are demarcations of areas within the heritage site itself whether the unit can be converted into a commercial unit or is it strictly a residential area. Don't get yourself in a rut when considering renting, buying, converting your heritage unit - go meet with advisors and arm yourself with legit information before going into negotiations with the seller, landlord or tenant. We have seen too many people get burned due to lack of knowledge, information and contacts.