Food in Penang - Malaysia
---
| Assam Laksa | Beef Kway Teow Soup | Coffee | Curry Mee | Wanton Noodles | Hokkien Mee | Lor Bak | Malay Nasi Campur & Ulam | Mamak Mee & Mee Rebus | Nasi Lemak | Nasi Kandar | Indian Banana Leaf | Home Cooked Dishes | Teochew Steamboat | Hainanese Cuisine | Penang Fried Kway Teow | Oyster Omelette | Kway Teow T'ng | Popiah | Porridge | Char Koay Kak | Fried Sago | Seafood | Thai | Nyonya Kuih | Samosas | Ai Yu Bing (Oh Kio) | Buns | Ais Tingkap (Sherbet) | Chendol | Ice Cream and Ais Kacang | Tau Foo Far | Chowrasta Bazaar Preserved Fruits | Cucur Udang | Patongko | Pisang Goreng / Chempedak Goreng | Puttu | Apom | Local Biscuits |
Penang has one of the most diverse food fare in Malaysia and at times, the food is so mixed with influences from Indian, Malay, Chinese and Thai cuisine that it becomes unique to the island itself. To get to know Penang better, there are maps and trails that takes visitors through small alleyways and nooks & crannies where culture and traditions are still very much alive. The Chinese Operas held on the streets that mark certain festivals celebrated by Taoists or carrying of the Kavadi during Taipusam or even the Puppet shows at the Temples are for the people of Penang and by the people of Penang. The same goes with the food, and that's why the standards are good. Their most discerning customers are ones who have grown up on their food. Enjoying Penang takes time, let us take care of your stay while you take time to explore the real Penang.
Popular Local Cuisine
Asam Laksa
---
Kedai Kopi Kek Seng
---
Location : 382-384 Penang Road, opens 9.00am onwards.

Established in 1906, this coffee shop is popular for its asam laksa, kway teow th'ng, loh bak and just desserts... homemade icecream with a very local flavour ~ durian, sweet corn and the rest ~ chocolate, vanilla, coffee and strawberry. Try the ABC (Ais Kacang) topped with a scoop of ice cream, flavour of your choice.

Sin Hwa Kopi Tiam
---
Location : 329 Jalan Burmah, shophouse opposite the Pulau Tikus police station. Open 10.30am-4.30pm (Closed Thursday)
A small bowl will cost you RM4.00 whilst a large is charged at RM5.00. What else to eat here - the famous char kway teow.

Jooi Hooi Coffeeshop
---
Location : 475 Penang Rd. Open everyday except for first & 2nd day of Chinese New Year.
One of the better assam laksa in town. For those without transport, this is most convenient location on Penang Road and at Joo Hooi Cafe , you can even order in the famous chendol from the stall outside in Lebuh Keng Kwee. However, if you do order the Chendol in, there is a service charge incurred.
Cafe Ko Cha Bi Balik Pulau
110 Jalan Balik Pulau, Balik Pulau, Penang.

Located on the main street, Ko Cha Bi sells a selection of local cuisine including the balik pulau assam laksa and siam laksa. Hakka noodles and Hakka rice is also a popular item on the menu. Many of the residents in Balik Pulau are of Hakka origins.

Those wishing to try home cooked Hakka dishes, very pork orientated stuff ... there's the Hakka Village at:
Location: 61, Jalan Bukit Kebun Kha, Pulau Betong, MK 7 Balik Pulau, 11020 Penang.
Tel: 04-2829666 / 016-4116666
Email: info@balikpulaulodge.com
Website: www.balikpulaulodge.com

At the same time, there is some information on the Hakka peoples' migration to Penang and their settlements in the early century at Balik Pulau.
Penang Road Famous Teochew Chendul

Location: 27 & 29 Lebuh Keng Kwee Open: Mon-Fri - 10:30am - 7pm ; Sat-Sun - 10am - 7:30pm

The owner of the Chendol stall will then "advise" customers to order chendul and try their assam laksa at their own shop just down the street where customers can save on the service charge. They also serve chinese rojak at this shop.

They have also franchised their brand and can be found in KL and various parts of Penang. For more information, have a look at http://www.chendul.my
However, there is another chendul stall directly opposite from them. If you haven't the time to wait, then this stall also serves good chendul.


Air Hitam Market Laksa
---
Location: Along a 5 foot pathway of the Air Hitam Market. Open Wednesdays to Mondays from 12.30pm till 8.00pm. Tuesdays closed.
Is it the best asam laksa in penang? Well, it certainly is worth a trip up to Air Hitam even if you have your doubts..
Ok, so it's no longer RM2.70 per bowl... but still worth a try...
Under the tree at corner of Gat Lebuh Acheh (Acheen Street Ghaut) and Weld Quay
---
Location: Under the tree at corner of Gat Lebuh Acheh (Acheen Street Ghaut) and Weld Quay. Closed: Mondays and Tuesdays
This is a great place to go during the day as next to it, there is an ai yu bing stall where they serve cold chendul, ai yu bing (a jelly, lychee in refreshing lemon flavoured ice shaved drink. This drink used to be a popular drink in the 1950s) , chendol and ais kacang as well as home made cold drinks; there is a good char koay kak stall, a fruit rojak stall, a mang chang kuih stall and a curry mee stall.
The assam laksa here is indeed the favourite among some diehard assam laksa fanatics. Although, the price of the laksa has been steadily increasing (last i heard it was RM5 per bowl, as compared to RM2.80 in 2011), the laksa is certainly worth a try. Its rich fish broth and freshly cut condiments give different levels of flavours. The owner never fails to remind us that she will be retiring in a couple of years and there will be no more..
Bistro Tang's Laksa
Location: 82a Lebuh Penang, George Town. Open: Wednesdays - Mondays 11.30am till 10.30pm (last orders 9.30pm) . Closed Tuesdays
Ok granted, Bistro Tang's laksa is not assam laksa but is a mix of Thai laksa with a hint of the assam laksa fragrance. In a thick, rich fish/santan broth, Tang laksa is topped with at least 9 fresh condiments such as bunga kantan, mint, chilli, long beans, pineapple, cucumber, serai, sweet preserved turnip and onions. Perhaps this is where the similarity lies.. fresh, tangy, fulfilling...
Beef Kway Teow Soup
---
Kang Beef Noodles
Location : At Sri Weld Food Court at Beach Street. Closed on Sunday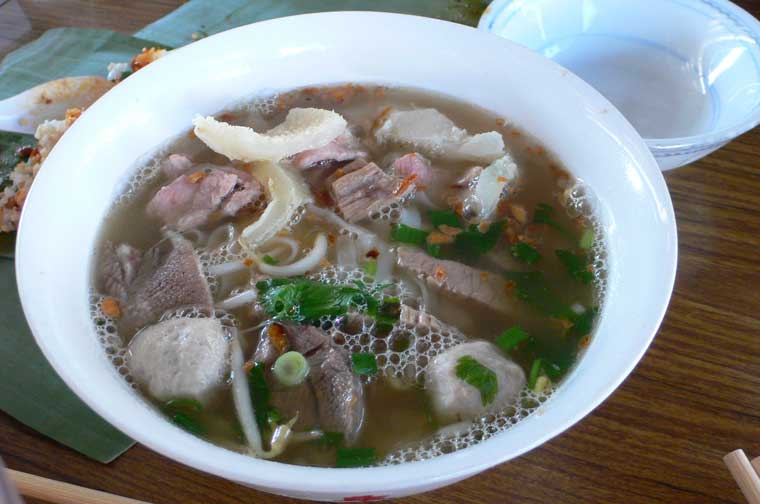 Also a popular place for Beef Noodle Soup. Within the Beach Road area there used to be 3 reknown beef kway teow stalls ie Eam Huat Cafe Beef Koay Teow, Kedai Kopi Lam Ah and this one in the Sri Weld food court itself. Today, only the one at Sri Weld food court is still located in the area. Eam Huat Cafe has been a favourite with my dad since the 1960s when he used to detour to Penang en route to Keroh just for a bowl of this extremely gratifying , rich beef broth - cooked over slow heat for many hours. The old man who had been running the place since forever, finally retired in 2014. The other beef kway teow soup has since moved to Carnarvon Street as we shall talk a bit about below.


Kafe St. Loo Beef Noodle Soup
Location: No. 262 & 264, Carnarvon Street, 10100, Pulau Pinang . Contact : Ms Loo Siew Theng ( 012-4090696 ). Open: 10:30 am to 9:30 pm ( Closed on wednesday )
So, now Loo Seow Theng from Lam Ah Coffee Shop at the junction of Chulia St and Beach St. has moved to her own premise at Carnarvon Street.
Lam Ah Coffee Shop
Location: 194, Beach Street. Junction of Beach Street and Chulia Street, opposite the Fire Station. Open: 10.30am - 4.30pm (Monday - Saturday). Closed on Sunday
Ok now that the famous old tenants ie the Loo beef noodle soup and the oyster omelette stalls have moved away to another location, Lam Ah Coffee shop has new tenants selling the same stuff - Beef Kway Teow Soup and Oyster omelette. And they are pretty good too.
Coffee

---
Rio Hotel & Cafe

Location: Kings Street, George Town. Open early morning till after lunch.
This place cater to the office crowd.It's just old world here. The local coffee or kopi and toast is a good start to the day. In the late morning, a plate of the mee jawa or mee goreng would go well. The wanton noodle is also a good bet if not looking for a full meal

Curry Mee

---
---
Air Hitam Curry Mee Sisters
Location : 610 K, Lorong Beside, Air Hitam. Open everyday from 7.30am till 1.00pm

Every morning the sisters are dropped off by a family member at their usual spot under a big, shady old tree. They have been selling their curry mee at the same spot for 6o+ years now and still going strong. This curry mee is not to everyone's taste. The soup is lighting taste on its own but with the healthy dollop of sambal , topped with coagulated pigs blood and strips of cuttlefish, it adds flavours and dimensions to it. Definitely an old familiar taste for those who have lived long enough to remember the good old days..
Peace and Joy Coffeeshop
Location: 87 & 89, Lebuh China, George Town . Open: 7am – 3pm . Closed Mondays
Penang Curry Mee served in spicy coconut broth and topped with cockles, pig's blood jelly, cuttle fish and fried bean curd and garnished with fresh mint leaves. Penang Curry Mee is different from the southern curry laksa as it is not as rich and the white curry gravy is spiced up with a dollop of sambal (spicy paste) which then gives its golden colour. Wanton Mee is pretty much a universal favourite in Asia. Hainanese Chicken Rice is also popular here as well as the penang chee cheong fun with prawn paste
The curry mee here have improved somewhat, after a period of recipe tweaking. You see, the husband and wife team who ran the stall earlier on, passed away after a very short bout of illness and strangely just a couple of weeks of each other. Thereafter, the relatives took over but obviously did not have the family recipe... they've got it almost right but not quite...
Chulia Street Curry Mee
Location: Chulia Street evening roadside stalls. Open daily from 7.30pm till 11.00pm . Closed Mondays.
Fancy a bowl of curry mee for dinner and you're staying smack in the middle of old George Town without a car? Fret no more, there are lots of food stalls to choose from in the late evenings along Chulia Street and you will be spoilt for choice. Not only is there curry mee, but also satay, wanton noodles, porridge, desserts
Wanton Noodles
Chulia Street Wanton Noodle Stall
Location: Chulia Street evening roadside stalls, in front of Regent Furniture Shop. Open daily from 7.30pm till 11.00pm . Closed Mondays.

Everyone who has been to chinatown and eaten at chinatown anywhere in the world would know what wanton noodles are. This particular wanton noodle shop, of which there are 2 at Chulia Street, is most popular with travellers. I guess it speaks for itself.. Who can resist this?
Ah Hock Wanton Mee
Location: A makeshift stall just at the junction of Lebuh Melayu and Lorong Ikan, George Town. Open Weekdays 12.30pm - 5.30pm
The reason as to why this is our favourite wanton noodle stall is because its taste , its texture, how it is tossed and served with a bit of sambal and pickled green chillies just shouts out "Old School" to us. It's a no frills stall selling no frills noodles at reasonable prices to working class crowds. It just feels so grounded...
Hokkien Mee
---
Super Hokkien Mee
Location: One Corner Cafe at Jalan Bawasah 12, (at the back of Burmah Road Giant Supermarket). Open daily from 8.00am till lunch. Closed on Tuesdays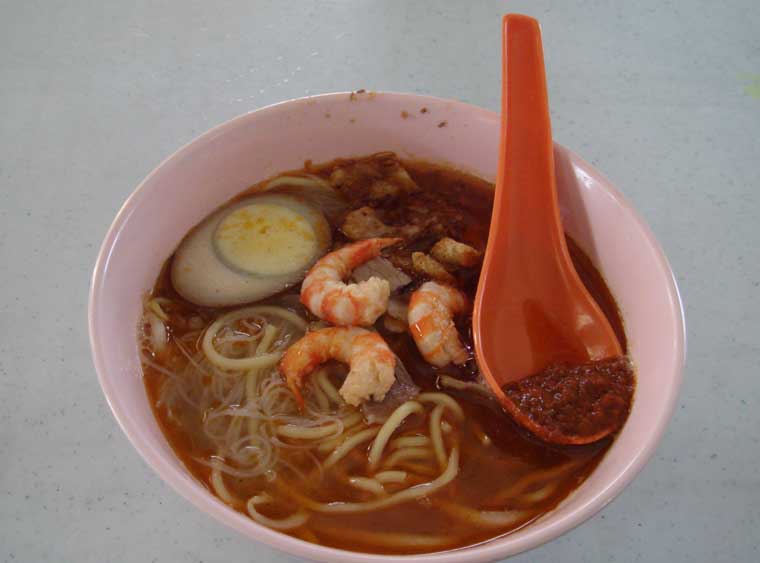 This stall is extremely popular and at times patrons may have to wait 45mins or more just for a bowl of their hokkien mee. One reason to this long wait is because of the phone bookings which can add up to a lot of bowls done before yours.
And sometimes due to the many orders flowing in and the heat from all those big vats of soup boiling over, the owner can get a little bit grumpy... Order from the lady not the cook. She has a book with the list of orders which she refers to.
So whilst waiting, there are other stalls worth trying out such as the assam laksa, deep-fried fritters, spring roll and a selection of local kuih. Or the chicken rice stall and even the egg and toast is worth filling the void for the next half hour to an hour's wait for that bowl of Hokkien Mee.
There even is a muar chee stall at the entrance.
88 Hokkien Prawn Mee

Location: 67A, Lebuh Pregrave, George Town. Open: 5.30 to 11.45 p.m. daily (closed Thursdays)
This is the place where locals go for their prawn mee fix and i mean the locals. This is where taxi drivers and stall owners go for a steaming bowl of gratifying noodles at supper time before they head off home for the night.
Lor Bak
---
---
Kheng Pin Kopi Tiam

Location : 80 Penang Road (Penang Road- Jalan Sri Bahari junction), Georgetown. Opens from 7am-3pm, and closes on Monday

Meat lightly seasoned with five-spice powder, wrapped in bean-curd sheet and deep-fried is a true blue Penang specialty. It's readily available at most kopitiam but Kheng Pin's is the best. Mr Lou Joo Chon has been frying up these treats for 40+ years now and still takes great pride in his work, preparing and frying the lor bak himself rather than allowing staff to do it as is often found with stall operators in KL. You want to taste the real thing, you'll just have to make the trip - all comparisons pale..

Malay Nasi Campur & Ulam

---
Medan Selera Tanjung Bungah

Location : Travel on the road from Tanjung Bungah to Batu Feringghi and once you see the floating mosque by the edge of the sea, the Arkad is up the hill to the left. Not something you will miss. It sits on a high lip just at the turning.

Open 7.00am - 9.00pm. Closed Sundays
There are 2 stalls here selling almost the same variety of dishes but Kedai Makan Lidiana is the more popular of the two. The ikan bakar especially the ikan cincaru stuffed with sambal & onions is a favourite and the ulam variety is impressive not to mention the sauces.Personally, we don't have a preference as to which has better skills. With that in mind, we normally go to the one with a shorter queue. If It's just as good, why wait..
Wa! Coffee Cafe
Location: 28 Lebuh King, George Town. Open: 11.30am - 1.30pm (however, go early as by 12.30pm , much of the varieties will be gone. Very popular with the office crowd). Closed: Saturdays , Sundays & Public Holidays and the entire fasting month running up to Hari Raya
When we stay at Ren I Tang Heritage Inn on Penang Street, this malay nasi campur shop that we love to visit. The food is freshly cooked and the fried chicken and fish is absolutely delicious. Then, whenever the seasons in, they also serve the nangka (jackfruit) gulai which is not everyone's favourite but is worth trying if you have not had cooked jackfruit before.
Mamak Mee & Mee Rebus
---
Pata Hameed Special Mee Stall

Location : At Esplanade, Padang Kota Lama in Lebuh Light. Open Mondays - Saturdays from 12.00nn to 8.00pm

This stall serves the fried yellow noodles with a special squid sambal and is extremely popular. The business started in 1978 and has been passed from father to son. It's so popular that the owner now fries an average of 400 to 400 plates
The mee rebus is slightly different from the rest in which the the owner uses an old recipe where weet potatoes are used instead of beef stock for base.
Fried mee with sambal squid is a favourite

Nasi Lemak
---
Mamak Stall at the Modern Hotel, on Muntri Street

Location : At the junction of Muntri Street and Leith Street, round the corner from Modern Hotel. Open nights except Tuesdays

The stall is a great place to go if you're craving for something late at night. The nasi lemak is good. It's the simple nasi (rice) with ikan bilis (anchovies) and sambal (chili paste) and really fills the spot! Then it's only befitting to end the night with a teh tarik (tea with evaporated and condensed milk) or Milo kosong (milo drink without sugar and milk)

Ali Nasi Lemak Sri Weld
Location: Lebuh Pantai, George Town . Open 7.00am - 5.00pm . Closed Sundays

This is one of those malaysian breakfasts that seems irresistible to most malaysians. Anchovy with hard boiled or fried egg is the basic combination but there are others to select from eg Salted fish with egg, Squid, prawn, chicken or mackerel
Nasi Kandar

---
---
Tajuddin Hussain
Location: 51, Lebuh Queen, George Town. Open: Monday – Saturday from 11:00 – 3:30 pm and 6:30 pm – 10:00 pm (closed on Sunday)
Tajuddin has one of the best Chicken Rose (Ayam Ros) or Duck Rose (Itik Ros) or Mutton Rose (Kambing Ros) in town. The mutton curry is superb and if you like bones with marrow to slurp on, this is it. The meat has been stewing in the curry for several hours, infusing ever bite with spice. Another dish that should hit the spot is the Ikan Gulai or Ikan Asam (Assam Fish). It's fresh and has a tangy sauce to it.
Nasi Tomato is a best seller here but you can opt for plain rice or Nasi Briyani.
Nasi Kandar Merlin Hotel
Location: 1A Lebuh Union - Corner of Lebuh Union and Lebuh Penang . Open: 11.30am –3.00pm (Best to go early...). Closed Sundays
This is one of those nasi kandar shops that the locals go to. Food is great and most affordable. Staff is super friendly , bordering on the cheeky side.. And mostly, it's still under the foodie radar so it remains very local
Nasi Kandar Imigresen
Location: Lebuh Pasar, George Town. Stall located in front of the Asia Cafe kopitiam. Open: 12.00pm - 10.00pm.
The usual variety of fried chicken, rose chicken and curries but there is one dish that is uniquely imigresen's. The fish cutlet is freshly deep fried and then cooked in a spicy sambal paste. Goes well with the briyani.
Nasi Beratur

Location : Right next to Kapitan Keling Mosque. Open: 9.30pm – 2.00am

The shop starts trading at about 9.30pm and the queue is something to ogle. A long line of hungry patrons waiting patiently for their turn to douse their mountain of steaming , hot rice with curry gravy. It's extremely popular with out-of-towners. Cars parked along the street are normally from other states - Kedah, Perak, KL, Selangor, Terengganu. On the weekends or during the holidays , it's crazy, jammed , packed...
Nasi Kandar is not a cheap meal. It can cost RM10 - 18 per person depending on what is ordered. But it surely is filling.

Line Clear Nasi Kandar

Location : In an alley at the junction of Lebuh Chulia & Jalan Penang . Open 24hrs

This is an institution in itself. Line Clear has a constant stream of hungry patrons. Apparently it is named Line Clear because in the days of the Thomas Cup Fever and when Malaysia was the favourite contender to win, the young and aspiring badminton players used to come through this little alley and into a small courtyard with a badminton court built into it. They used to train at this court and hence the name 'Line Clear' stuck. Or is it just an urban myth?


Indian Banana Leaf
---
Sri Ananda Bahwan
Location: 53&55, Penang Street and 25, Penang Street. Open: 7.30am - 11.30pm
Sri Ananda Bahwan has outlets mainly in the Northern States of Malaysia, ie Penang , Perak and Kedah . On Penang Street, George Town,there are 2 outlets. Sri Ananda at the corner of China St and Penang St (53&55 Penang St) serves non-vegetarian food and the outlet at 25 Penang St serves vegetarian banana leaf rice.
Both restaurants are consistently good. They also have roti canai in the afternoons and tasty tandoori chicken as well. After their recent refurbishment in 2015 , 53 penang street also has a wider range of Indian desserts.
http://srianandabahwan.com.my/

Restoran Veloo Villas
Location: 22 Lebuh Penang George Town. Open : 6.30am - 10.00pm
Veloo Villas is one of the older banana leaf restaurants in George Town.Established in 1959, it was a small little stall then which now has expanded to 2 outlets, the other one at Bayan Baru. The morning session starts 6.30am till about 10.30am , selling roti canai and thosai. By 11.00am , rice will then be served for the lunch session right through till closing at 10.00pm.
The food is standard, not outstanding and not as cheap as it used to be but what irks me most is the service. Which is a hindrance. But roti in the mornings are good.
Home Cooked Dishes
---
Hing Kee Restaurant

Location: 60 China Street, George Town. Open Daily: Lunchtime till dinner. Closed Mondays

Old home-cook styled dishes. Fish Curry Tumis cooked in the spicy tamarind gravy with lady fingers and tomatoes to balance the flavours and textures is a highlight as is the Kang Kung Ham Har, a home recipe where the kangkung (Water Spinach) is served with a topping of dried prawns and fried garlic paste. Another favourite with the regulars is their signature dish Mui Choy Pork Belly. Mui Choy is dried salted mustard green. For those of us who have had the privilege of savouring Grandma's cooking, this dish is a trip down memory lane. For those who would like some gravy to go with rice, then tofu and fish slices cooked in bean paste (Tau Cheong) gravy is the perfect choice.

Tek Sen Restaurant
Location: 18, Lebuh Carnarvon, George Town. Open Daily: 12.00pm - 2.30pm ; 6.00pm - 9.00pm. Closed Tuesdays
This are some of the popular dishes at Tek Sen. Kacang Botol (Four Angle Bean) fried with sambal, pork fried in dark soy sauce, steamed egg, fried rice. All worth a try.
Teochew Steamboat

---
---
Goh Huat Seng

Location : 59A Kimberley Street. Tel: 04 261 5811 / 261 5646. Opens from 11.45am -3.00pm , 6.00pm - 9.30pm. Closes alternate Mondays

This is one of Penang's more established Teochew restaurants popular for its Teo Chew Seafood Steamboat or 'Juan Lo'. The special part to this steamboat is that they provide a deliciously flavoured fish soup base which is probably what makes an outing to this restaurant worth the effort. Seldom do we see steamboat still using charcoal to cook.

Goh Teo Kee Restaurant

---
Location: 78, Jalan dato Ismail Hashim, Taman Tunas Muda, 11900 Bayan Lepas, Penang .Hotline :04-6443072

Opening Hours: 11.30am – 2.30pm and 6.00pm – 10.00pm. (Closed on 1st and 3rd Wednesday)
This restaurant serves a good selection of teochew staple food. The Oh Nee is good here. The simple stuff is the best, forget about the fancy restaurant dishes like garoupas, sharks fin and some thai infusions...

Hainanese Cuisine

---
---
Sin Kheang Aun

Location : 2 Chulia Lane. Tel: 04 261 4786. Opens 11.00am - 2.30pm, 5.00pm - 8.00pm. Closes alternate Mondays http://shingkheangaun.wordpress.com/

An old establishment with a reputation spanning 6 decades, this is certainly not a stop to miss for the food connoiseur. Try the marinated fried pork liver and the mee sua for starters. Then attempt to order and eat just about everything on the menu such as the pomfret asam tumis , kiam hoo bak (pork with fried salted fish mixed in tamarind juice) , kerabu, pickled vegetables with duck in soup, inche kabin, mui chee kai (crispy chicken simmered in plum sauce) etc.

However, methinks secretly, there's a local pricing and a non local pricing going on here. Non-local meaning anyone who is not born n bred on Penang island itself....
Penang Fried Kway Teow

---
---
Sin Hwa Kopi Tiam

Location : 329 Jalan Burmah, shophouse opposite the Pulau Tikus police station. closed thursdays

The char kway teow here is worth every sen and just one plate may not be enough. The other popular stall here is the Asam Laksa.

Heng Huat Kopi Tiam

Location :108, Lorong Selamat

Open for lunch every day. But better to make it after the lunch hour rush. Our experience is that it tastes better when she's not rushed. The sizes range from RM8.50 but if you want the cheapest one, let her assistant know you dont want the 4 gigantic prawns they add to it.
Peace and Joy Coffee Shop
Location: 87 & 89, Lebuh China, George Town . Open: 7am – 3pm . Closed Mondays
This is the shop situated right at the front entrance to the coffeeshop. A plate of fried kway teow will cost RM5.00
Hock Poh Lye Coffee Shop
Location: 34 China Street, George Town. Open Daily: 7.30am - 3.30pm. Closed Saturdays and Chinese New Year 1st - 3rd day
Mrs Tan has been frying char kway teow at this premise for over 2 decades. She has managed to singlehandedly bring up her 6 children from making a living frying this ever popular local noodle dish. But the aroma of garlic fried in a ladle of oil, the clanging of the wok and the sweet , sweet combination of flavours , steaming and wafting out onto the street. Makes heads turn and tummies rumble..
Oyster Omelette
---
Kedai Kopi Lam Ah
Location : Directly opposite the fire station at the junction of Chulia St and Beach St. (The one with the green bamboo chicks) Opens from 9 am - 3 pm (Close on Sunday and Public Holiday)
There was a change of tenants sometime back in October 2015. The famous Ms Loo's Beef Noodle Soup and Mr.Gan's Oh Chien have moved to their own premise at Lebuh Carnarvon. However, the replacement of tenants at Lam Ah Coffeeshop sell the exact same stuff as the previous tenants, ie beef noodle soup and fried oh chien. Not bad duplication of the originals...
Kafe St. Loo Beef Noodle Soup
Location: No. 262, Carnarvon Street, 10100, Pulau Pinang Contact : Ms Loo Siew Theng ( 012-4090696 ). Open: 10:30 am to 9:30 pm ( Closed on wednesday )
When Miss Loo of the famous beef noodle stall at Kedai Kopi Lam Ah moved to her own premise on Carnarvon Street. Mr.Gan who used to have a stall at Lam Ah also moved with her. Mr.Gan's oh chien is a little different as it has a crispy omelette base which probably complements Miss Loo' beef noodles as it is slightly less stodgy and filling than the usual oh chien.
Now that Ms Loo and Mr Gan open till 9.00pm, there's plenty of time to wander about the kimberley, kampung kaka, carnarvon and armenian areas before heading off for a late lunch or early dinner.
Kedai Kopi Seng Thor

Location: 160, Lebuh Carnarvon, Penang. Open Lunchtimes

The Penang Oyster Omelette or 'Or Chien' in Hokkien dialect is a favourite at Kopitiams and you can find this cooked up almost as common as Char Kway Teow in Penang. Normally in Penang, the omelette does not come in a tidy shape of an omelette. What we normally would expect. It's all chopped up and tossed and mixed with chives and when it gets to your table, it's usually a pile of omelette pieces with blobs of oysters peeking through. Not too appetizing? Not until the first bite into these juicy bits...then you will know why Malaysians come from all round the country for penang's street food. No fancy frills, just expansion of the sense of taste.
Kway Teow T'ng
---
Hock Poh Lye Coffeeshop
Location: 34 China Street, George Town. Open Daily: 7.30am - 3.30pm. Closed Saturdays and Chinese New Year 1st - 3rd day
This is a pretty big secret we have here. The kway teow t'ng made from a combination of chicken, duck and pork meats is superb. Mrs Tan of the char kway teow fame also makes this delicious noodle soup but she only makes and sells up to 20 bowls a day. First come first serve. The thing is , being smack in the middle of George Town's fast expanding little india, the local office community seek out their regular haunts such as this ramshackled wooden shop which is so quaint and alive compared to the hideously decorated and renovated neighbours it has.
Popiah
---
---
---
Padang Seafood Popiah

Location: Padang Brown Food Court,Dato Keramat Road , at the intersection of Jalan Anson and Jalan Perak . Business hours: Lunch till afternoon

The filling in the wraps consist of lettuce, crab meat, chinese sausage french beans, fried shallots, turnip, shredded egg and sealed with a healthy amount of chilli and plum paste. There's a difference between the popiah we get down south and Penang popiah. The famous popiah at Padang Brown is soaked in a bit of stock. But, strangely in a way, it makes it incredibly tasty as long as you don't allow it to soak too long...otherwise the popiah skin or wrapping will get a little too soggy.
For this dish, you could also request it to be vegetarian.

Porridge

---
---
Tai Buan Porridge

Location :173 Muntri Street. Open 1.30pm – 8pm. Closed on Sundays

This ever popular teo chew styled porridge comes with several variety of side dishes. The popular dishes are the braised pot has taukua, pork innards and pork belly ; Braised duck meat ; pig's ear braised in flavorful soy sauce and spices ; duck liver and gizzard. This is the real deal teo chew porridge. Don't settle for less!
Hon Kei Food Corner

Location : 45 Kampung. Malabar , George Town. Open daily from 9am-3pm, 5pm-12am . Closed Thursdays
Ok, maybe this is not for everyone. Not for those who cannot 'stomach' innards. This Pork Innards porridge is one of my favourites. It has everything in it that makes the broth so rich..a tad salty but still tasty. A bowl of steamy, hot comfort broth is all that is needed after a tiring, stressful day at work. This shop used to be a little stall located on the pavement walk outside Ho Ping Kopi Tiam but has since moved into their own space and doing very, very well indeed. Their menu has also expanded to include Preserved Salted Vegetable Mixed Pork Soup and an assortment of drinks
Magazine Road Teochew Porridge

Location: Magazine Road, shanty shoplot across the road from Jen Hotel. The restaurant next to it is called Gaik Ten. Open : 11.30am till 3pm. Closed on Monday, Tuesday and Wednesday.
This is where the local townies, generally we see more old men here than women, go for a nice big, cheap bowl of teochew porridge in the day. It really has a great variety of dishes and I guess why its a hit for the older generation is that the dishes remind them of the old days. With old ways of cooking, old recipes that have lasted an eternity and old memories...all brought to the current.
Ok, let's get past the stool on stool seating of which everyone is so fascinated with. For everyone else interested in the food, it's a rare find and most affordable. But you don't have to sit at the stall. There are plenty of tables and chairs around.
Char Koay Kak
Char Koay Kak stall at Acheen Ghaut
Location: Acheen Ghaut / Pengkalan Weld (Weld Quay) junction. Open Daily 2.30pm - 5.30pm .
Char Koay Kak is a popular local dish made of fried rice cake - a sort of compacted rice paste cut into strips or cubes , adding thick dark soy sauce and light soy sauce with an unhealthy, which means in most cases, delicious amount of lard or oil and stir fried with sweet pickled radish and fresh, crunchy beansprouts.
Seow Fong Lye Cafe
Location: pushcart by the side of the road, at 94C Macalister Lane, Seow Fong Lye Cafe. Open 7.30am - 1.00pm
The ladies have been serving char koay kak here for over 30years and they're still going strong at it. One of the better char koay kak in town, Sister Yao opens for the morning to late morning crowd only, closing by lunchtime.


Fried Sago
---
Sister 7th Street Sago Char
Location: Cecil Market,40-48 Lebuh Cecil, George Town. Opens: Daily 11:00am – 4:00pm
This one, I can't really put my finger on it. Like it ? Don't like it?In fact , with every bite it grows on you. By the time you get to the last morsel, you'd already have made up your mind. It's the same for me each time. At the very end of the meal, i get to love it all over again.
It's one of those one-off recipes that is not replicated anywhere else. Perhaps the stall here is the only remaining fried sago stall in Malaysia if indeed it ever were a popular dish and sold anywhere else.
Fried sago is a combination of sago beads with hot water. Once it gets gooey, ie the sago melts in the hot water to create this starchy glob, it is then rolled out onto a table and kneaded into a cake. It is then placed in boiling water to cook. Once cooked, The slab of sago is chopped into little pieces fried in a large flat pan . The method of frying is very similar to char koay kak where dark soya is added and fresh beansprouts, spring onions, preserved radish, minced meat and spicy sambal is thrown in to fill the bulk and flavour.
Fried sago 's texture differs from char koay kak in that it has a wonderful springy texture. Granted, it's not something one can eat in copious amount but the combination of its flavours plus that unique texture makes this dish a winner.
Seafood

Tsunami Seafood Village
Location: 543-A Tanjung Bunga. Tel: 012-487 2718 / 019-447 2718 Open : 5pm-10pm. Closed Mondays.
oc
A little further away at Tanjung Bungah is Tsunami Village by the seaside.They cook great bamboo clam with chilli, steamed fish with lemongrass sauce, salted egg prawns or crabs, fried rice ...Really, really popular with locals and expats alike.
---
Sea Pearl Lagoon Cafe

Location: 338 Mukim 18, Tanjung Tokong Penang Next to the Tua Peh Kong Temple . Tel : 04 8990375 Business Hour : 11am – 10pm

This popular seafood restaurant is located in a converted beach home of 60's architecture and tucked away from the main attractions. But the taxi drivers would be most familiar with this old institution. Reknown for its coal baked crab and salt baked crab dishes, there are also other stalls for those who prefer meats like fried chicken and satay.

Ocean Green View Seafood Restaurant

Location: 48F Jalan Sultan Ahmad Shah Tel: 04 2262681 & 2274530 . Business hours: 12noon till 11pm (daily)
This is a very popular place for tourists and corporate patrons. The price is quite a bit more than other places but the food is good. The baked crab, inchi kabin, steamed prawns and the marinaded chicken satay is surprisingly good. The twist is that it doesn't come with a bowl of lukewarm peanut sauce, the meat itself is well marinade to give the right amount of flavour.
Thai
---
Tree Monkey Restaurant

Location: Lone Crag Villa, Lot 595 Mukim 2, Jalan Teluk Bahang, 11100 Penang. Telephone: 604 - 881 1797

Tree Monkey presents a predominantly Thai menu from North Eastern Thailand whilst incorporating Malaysian and other Western treats. Lots of delicious BBQ meats and spicy salads await you - all with the promise of the freshest herbs and spices as on in display in the gardens. It has a beautiful view of the sea and worth a visit in the evening as the sun sets.
Tan Jetty Thai Food
Location: 97A, Pengkalan Weld. Open: 11.30am - 2.30pm, 5.00pm - 10.00pm
Tan Jetty Thai food is located right at the end of Tan jetty. It is a wooden hut with a covered wooden platform for rainy days otherwise, sitting outside and dining in the open under a million stars just makes this place all the more enticing. A cool sea breeze , a bottle of beer, spicy hot Thai food and of course that includes a really, really good Tom Yam soup - what else is there to look forward to?
Food wise - it's a bit of an MSG overload but very tasty all the same. It's just one of those times, when we may have to turn the blind eye and just enjoy the flavours. Our favourites are the deep fried morning glory, tom yam soup, mantis prawns fried in batter, pandan wrapped fried chicken, mango kerabu.. staple dishes
TitBits & Desserts

Nyonya Kuih

Moh Teng Peow Nyonya Kuih

Location: Jalan Masjid (Off Chulia Street), Georgetown. The lane next to Sky Hotel. Open: 10 am to 5 pm. Closed Mondays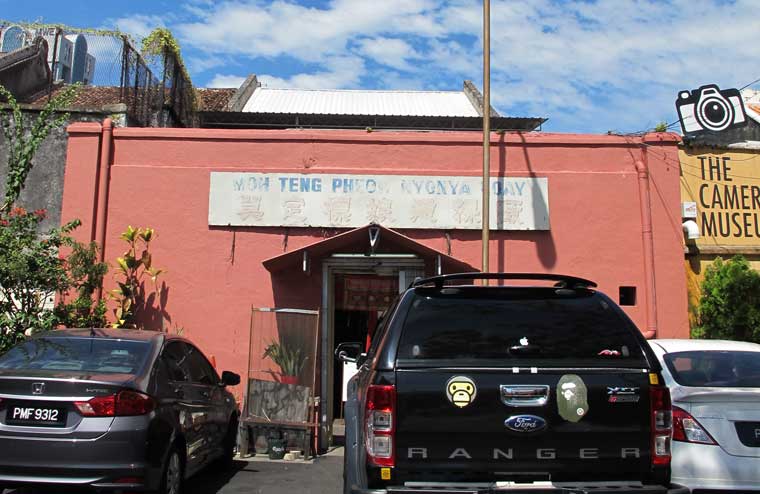 The days before cafe culture became a buzz in Penang, the nyonya kuih shop at jalan masjid catered mostly to resellers who would collect an assortment of freshly steamed and cooked kuih on consignment to sell along the streets of George Town. Today, this place has expanded from just a kuih wholesaler to a cafe selling assam laksa, nasi ulam, spring rolls along with the nyonya kuih assortments. The nice thing about the nyonya kuih made here is that they have retained their traditional methods of making the kuih, using natural colouring from leaves and flowers such as bunga telang and pandan leaves; and using toddy to make a certain kuih called the fatt koh, which needs to be ordered in advance as toddy needs to go through the fermentation process prior to cooking.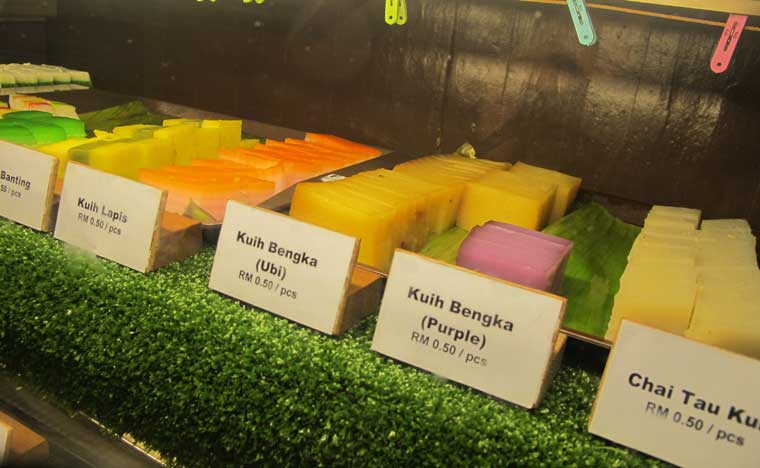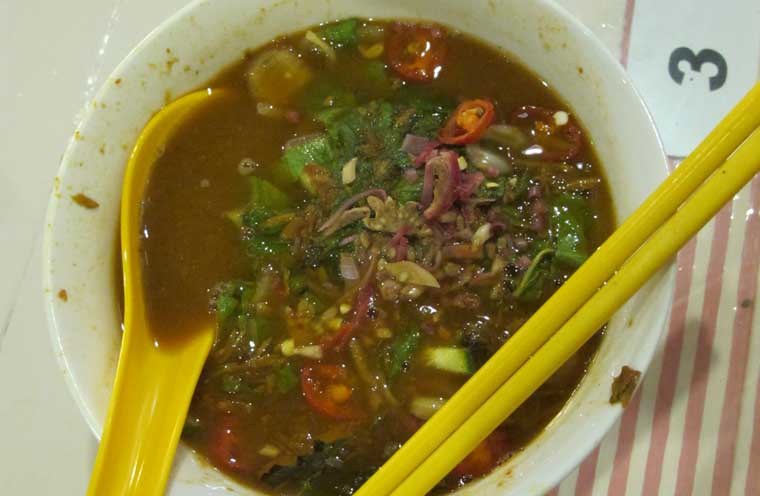 Samosas

King Street Samosa Stall
Location: Pushcart stall at the corner King Street and Market Street (Little India), George Town. Open: Mon-Sat, 9.00 am til late evenings. Closed on Sundays.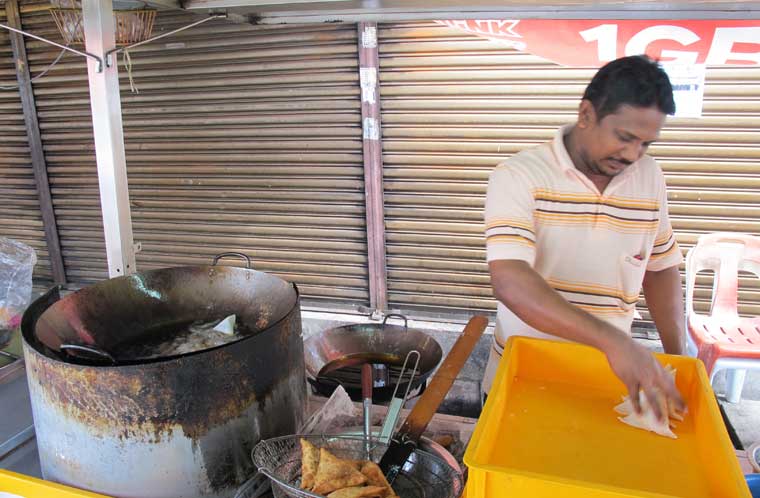 There are several stalls selling samosas at this junction.The one we prefer is the one on the left as you head towards Pitt Street. He sells potato samosa, chicken samosa, tuna samosa but the best of the lot has to be the sardine samosas. There's also vadai here.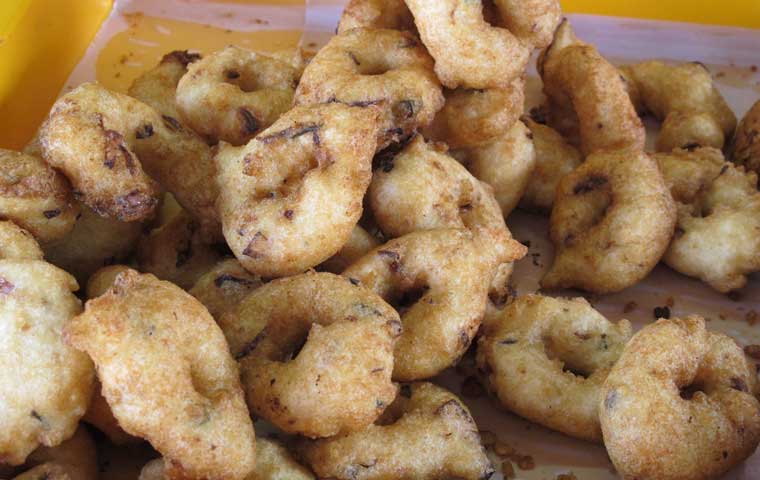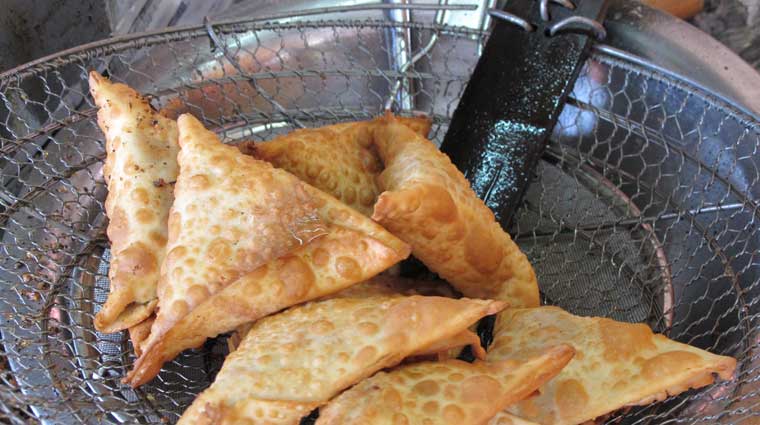 ---
Ai Yu Bing (Oh Kio)

Weld Quay Ai Yu Bing
Location: Ghaut Acheen and Weld Quay Junction. Open: 1pm to 5pm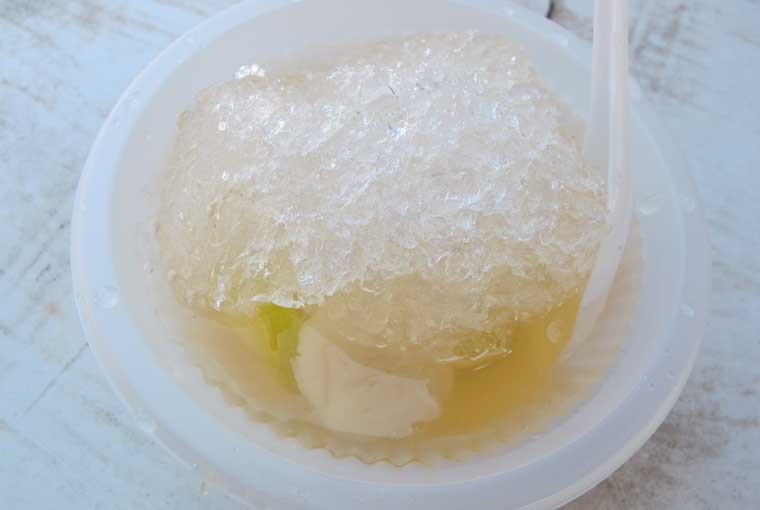 A deliciously refreshing dessert which is a combination of finely shaved ice, aiyu jelly, lychee, syrup and a slice of lemon. Ai yu bing is an old dessert and have been around since the 1940's and was originally from Taiwan. The Ai yu seeds are harvested from the fruit of a variety of creeping fig vine found in Taiwan and East Asian countries.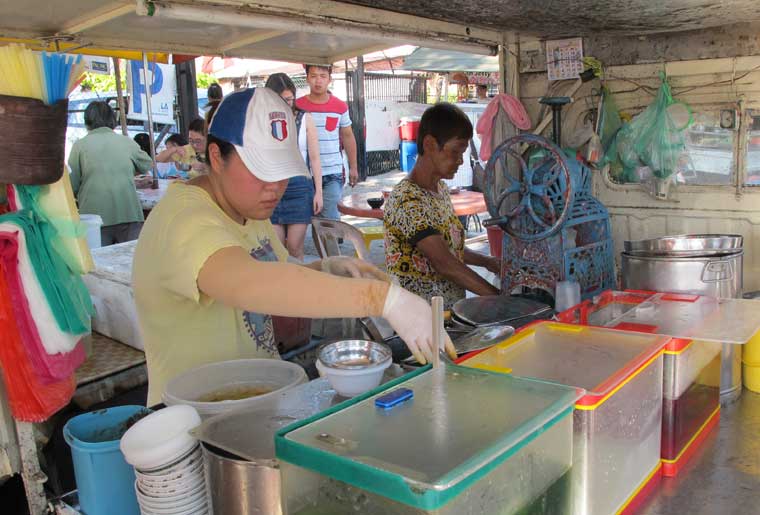 Buns
---
Air Hitam Market Stalls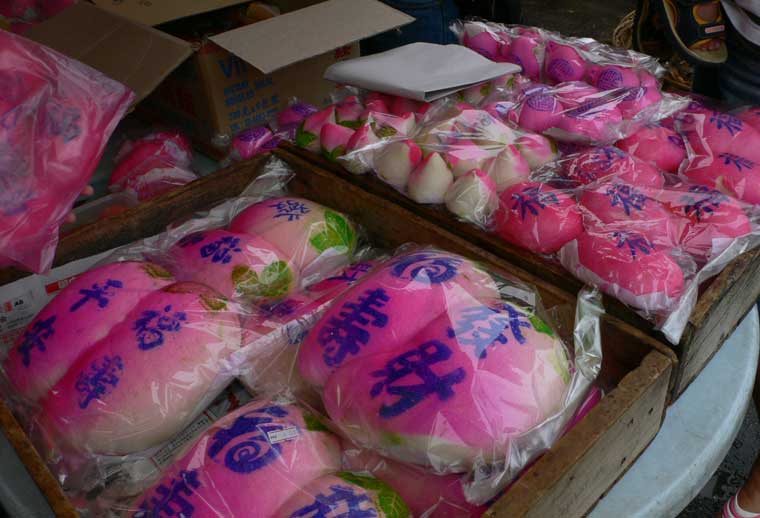 Open daily - Mornings. The ones specific for prayers are only available occasionally

CKC ( Cheong Kim Chuan) : Hoe Peng Biscuit

Location: 99B, Lorong Selamat. Open daily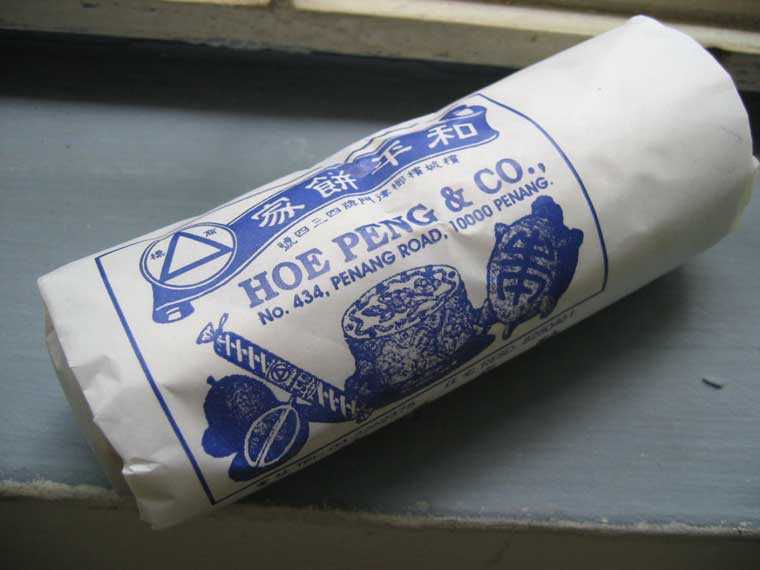 Hoe Peng & Co was located at Penang road for years, eventually moving to their current location having been taken over by CKC

The buns on the left are filled with sweet lotus seed paste and many buy this as it symbolise longevity. Especially popular desert at birthday dinners. The buns on the right are normally used during prayers. These here are not complete. There is still the head, the feet and a tail to attach plus chinese characters to pipe onto the bun. Those familiar with Hokkien Taoist festivals should be familiar with this pink-crusted bread loaf moulded into the shape of a turtle also known as mee koo to the locals.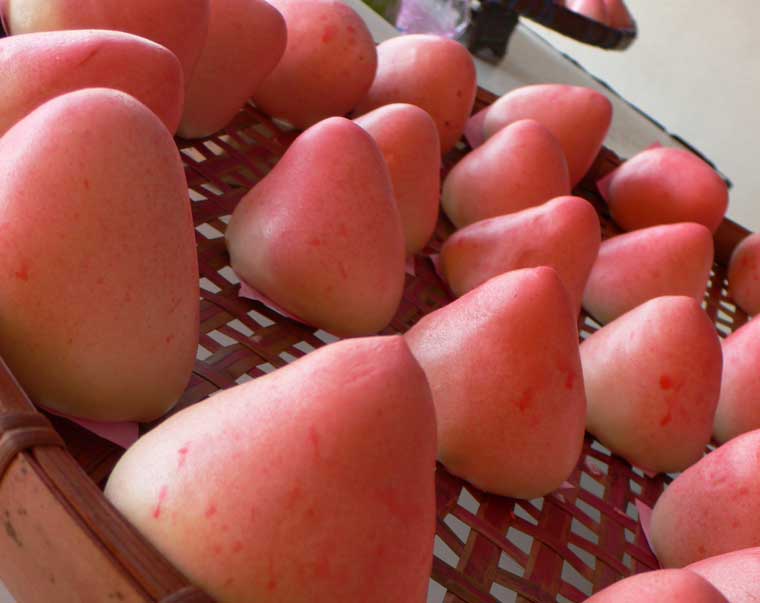 Ais Tingkap (Sherbet)
Ais Tingkap

Location : Lebuh Tamil, located next to Chowrasta Market and opposite the old Police Headquarters at Penang Road . Open: 12noon - 8.00pm. Closed Sundays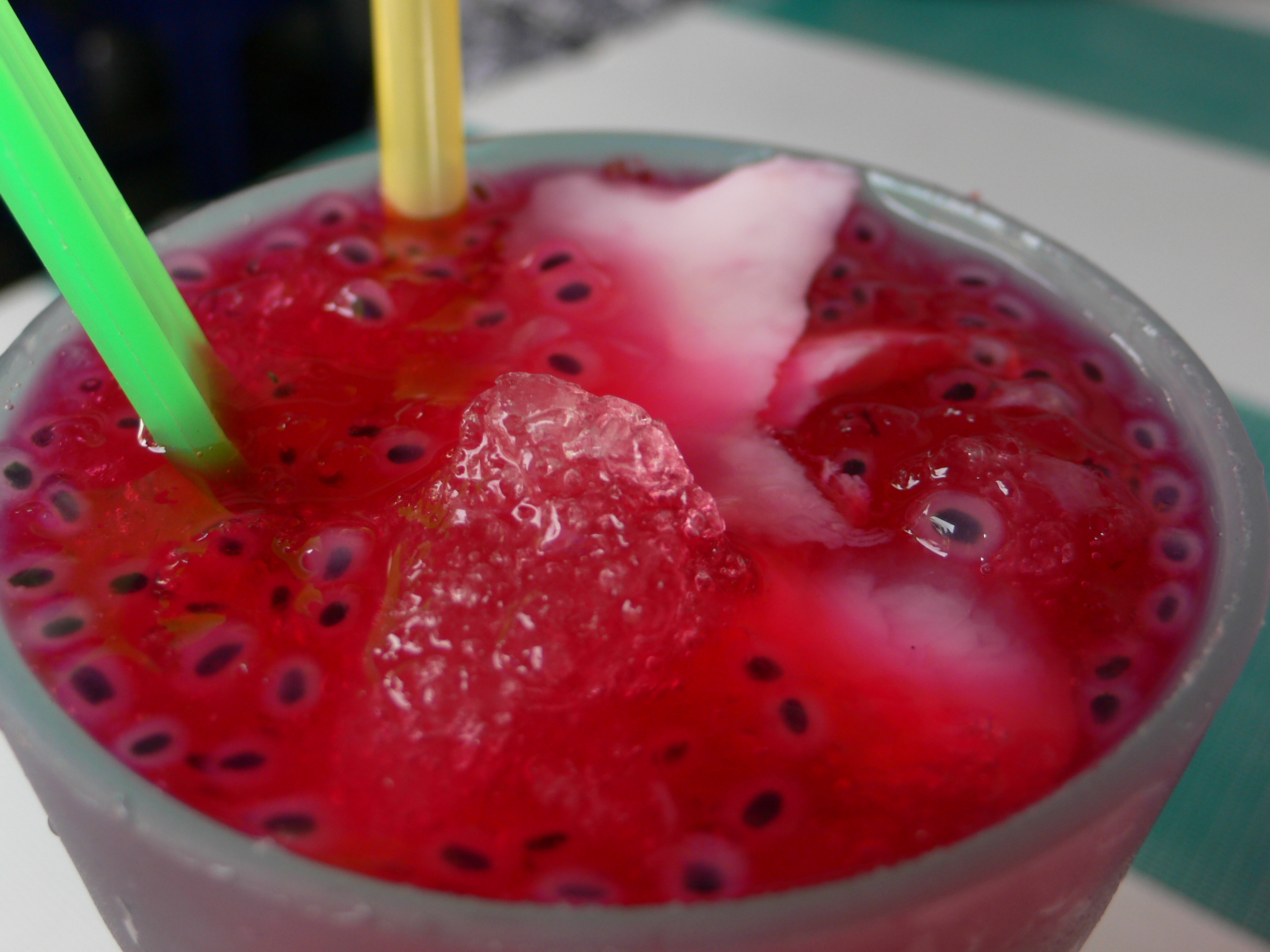 This most refreshing drink of syrup water, coconut juice & flesh and selasih goes so well with the cucur udang prepared by another vendor nearby . Ais tingkap is another one of those best kept secrets only the locals would know where to get. The gentleman who now mans the stall is the third generation to run the family's business which started in 1928. Amongst other refreshments , one can also try the chendul and ais kacang. The best thing to have on a hot, hot Georgetown afternoon - tongue searing, fresh deep fried cucur udang and brain freezing iced refreshments!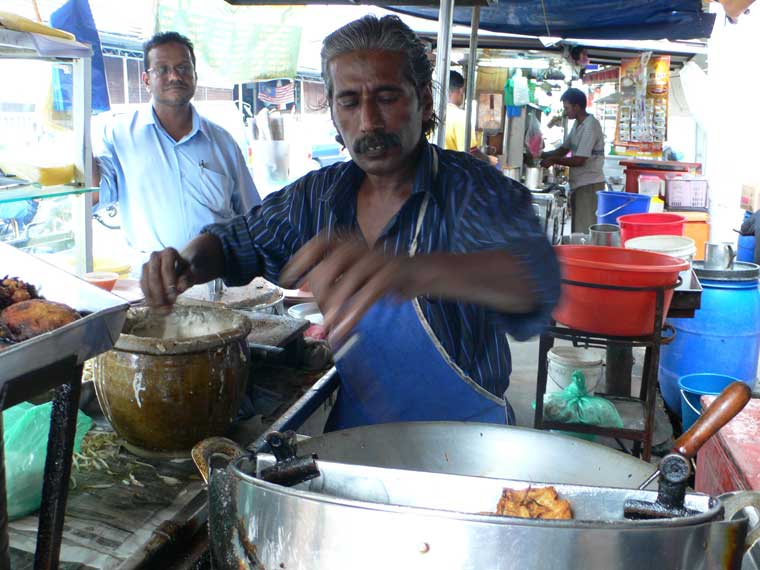 Chendol

Penang Road Famous Teochew Chendul
Location: 27 & 29 Lebuh Keng Kwee Open: Mon-Fri - 10:30am - 7pm ; Sat-Sun - 10am - 7:30pm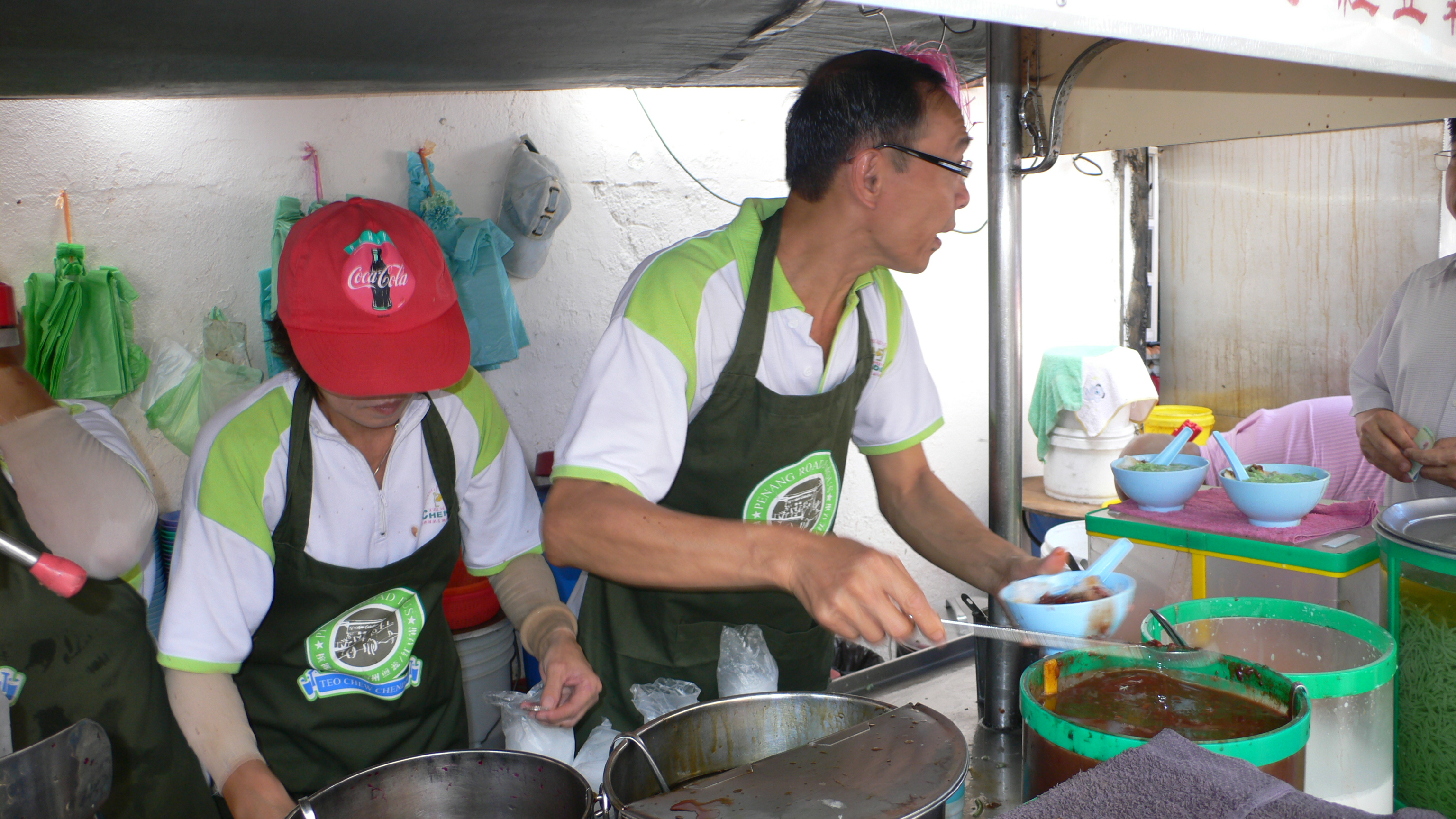 Location: Lebuh Keng Kwee, off Penang Rd. Open everyday except for first & 2nd day of Chinese New Year Great cendol with gula melaka. Been around for 60yrs+. They have also opened a branch at the Prangin Mall..looking all spruced up and fastfood-like. But somehow it just doesn't taste the same. Must be the ambience, the dust , the honking of frustrated drivers due to the bottleneck caused but its patrons queuing up on the street, that makes the difference.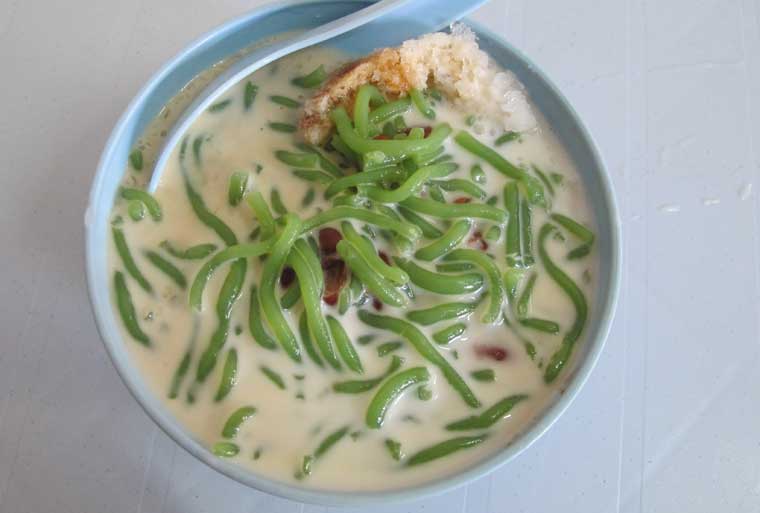 Ice Cream and Ais Kacang

---
Kedai Kopi Kek Seng

Location : 382-384 Penang Road, opens 9.00am onwards.
Established in 1906, this coffee shop is popular for its asam laksa, kway teow th'ng, loh bak and just desserts... homemade icecream with a very local flavour ~ durian, sweet corn and the rest ~ chocolate, vanilla, coffee and strawberry. Try the ABC (Ais Kacang) topped with a scoop of ice cream, flavour of your choice.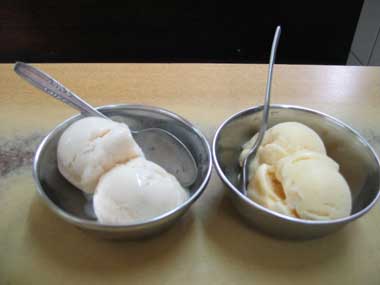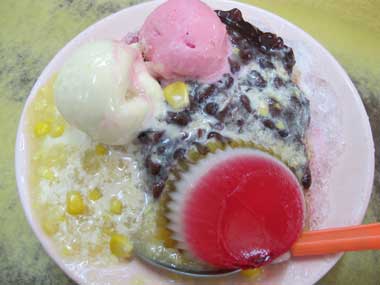 Love it just because it's so old style. Even the eating booths (yeah, check out the eating booths) are old school retro.

Kedai Kopi & Ais Kacang (Loh Eng Hoo Coffee Shop)
Location: 84 Lorong Selamat. Business hours: 12.30PM – 6PM
This ais kacang venue is one of the better ones in George Town. The famous Lorong Selamat Char Kway Teow used to be located here but the Madam has bought herself a shop down the road and now her place has been taken over by another char kway teow stall. The gentleman who fries the char kway teow here also wears a pair of goggles when he's at work!

Padang Brown Ais Kacang

Location: Padang Brown Hawker Centre, Dato Keramat. Opens at noon til late evening about 6-7pm.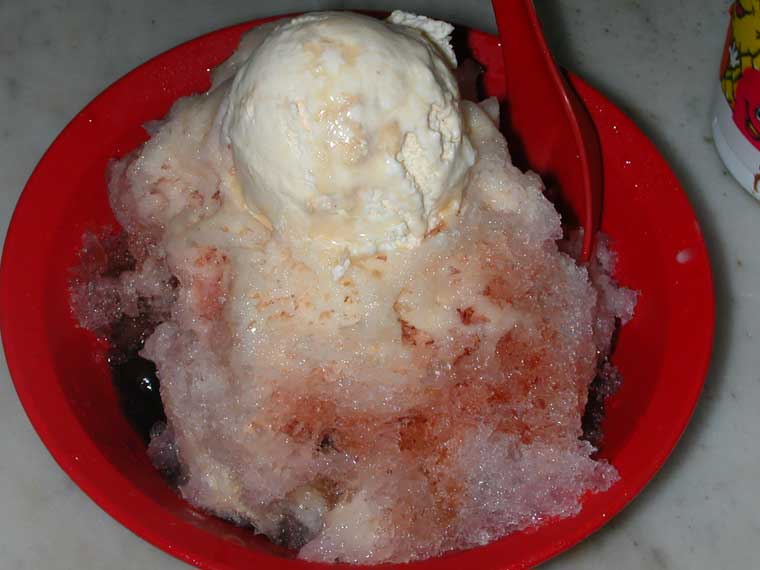 What i love about this ais kacang is that it has real home cooked red bean paste.None of that rubbish kidney beans out of a can thing. It's old school ais kacang. The kind that brings memories flooding back of school days and carefree moments. For those born after the early 80's will probably not know what I'm on about...

Jalil Special Ice Kacang
Location: No. 2, Astaka Kota Selera, Padang Kota Lama, George Town. Open: Mon - Sat : 11.00am - 8.00pm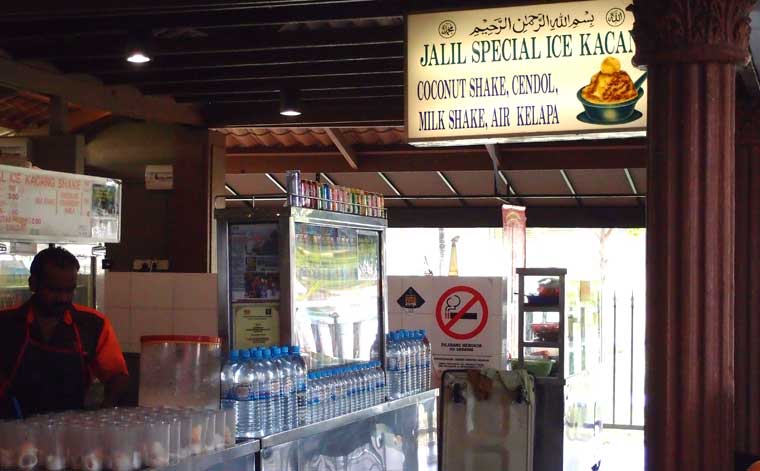 Just a stone's throw away from Fort Cornwallis, this is definitely the place to stop by for a refreshing cup of coconut shake or their famous Special Ais Kacang. Jalil's Ais Kacang has been in business since 1970 and still going strong, judging from the glasses of coconut having been prepared early (this was taken at 12.00pm on a Friday) before the rush of the lunch crowd from nearby government offices.
T
au Foo Far

Kimberley Soya Milk and Tau Foo Far

Location : Kimberley Street. . Opens from 6.00pm - 12.00midnight.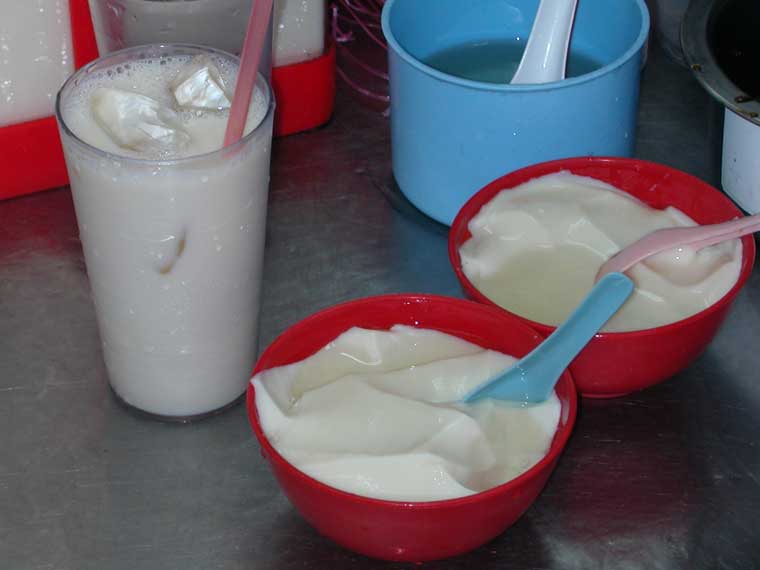 Tau Foo Far and Soya bean drink. For RM2.50 a bowl , this is a refreshing dessert after a good food trip down Kimberley Street.

Chowrasta Bazaar Preserved Fruits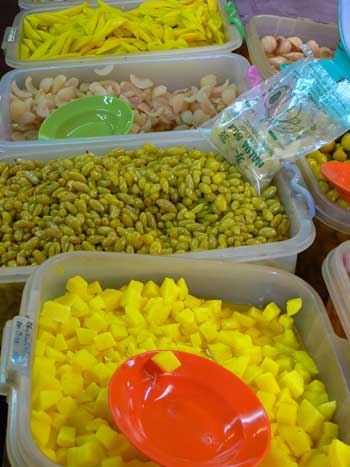 Location ; Penang Road, Georgetown . Open everyday from morning till 5.30pm


Chowrasta Bazaar is a fantastic place to go if you like these preserved/pickled goodies. There are all sorts from mango, nutmeg, papaya to grapes , ginger - you name it. Before buying you can ask to taste the different types of pickles they have. The vendors will be happy to oblige.
Other items are sundry goods, local biscuits, balms, candy, sauces etc.
Watch out for the very enterprising grandmas. They can more or less get anyone to buy their products!
For those looking for some local seafood products to take home with you, the Penang made belacan is very good. Also, there are a variety of prawn crackers to choose from. They also sell the local nutmeg cordials and several types of nutmeg balms that are handy especially to sooth insect bites.

To the back of the bazaar is the wet market, selling all sorts of meat, vegetables and fresh seafood


Cucur Udang
Location : Next to Tingkap Ais at Lebuh Tamil. Next to Chowrasta Market and opposite the old Police Headquarters at Penang Road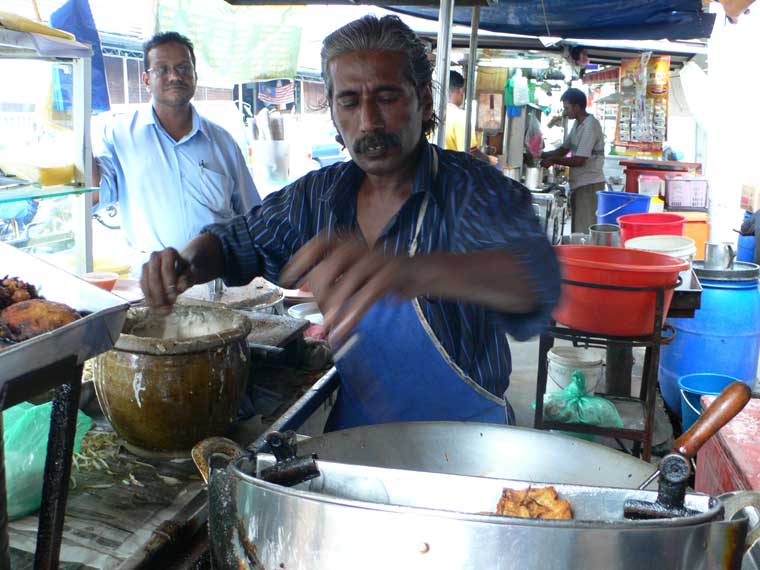 The cucur udang is freshly made and goes all too well with the refreshing Ais Tingkap drinks.

Patongko
Location : In front of Hutton Lodge. 17, Hutton Lane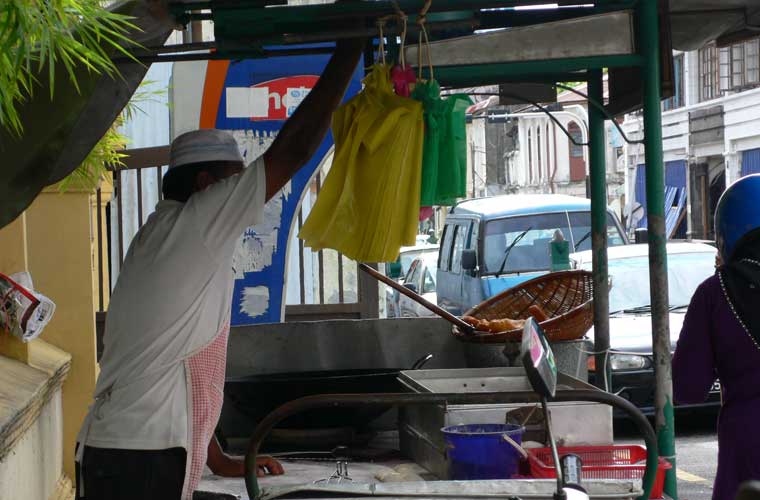 We normally know this as Char Koi in KL. This goes fantastically with a hot cup of local kopi. For RM2 , you can get enough for a satisfying tea break session
Pisang Goreng / Chempedak Goreng
Location : By a slip road - at the junction of Jalan Tanjung Bungah (the main road leading to Batu Ferringhi) and Jalan Chan Siew Teong. Open 12.00noon to 6pm daily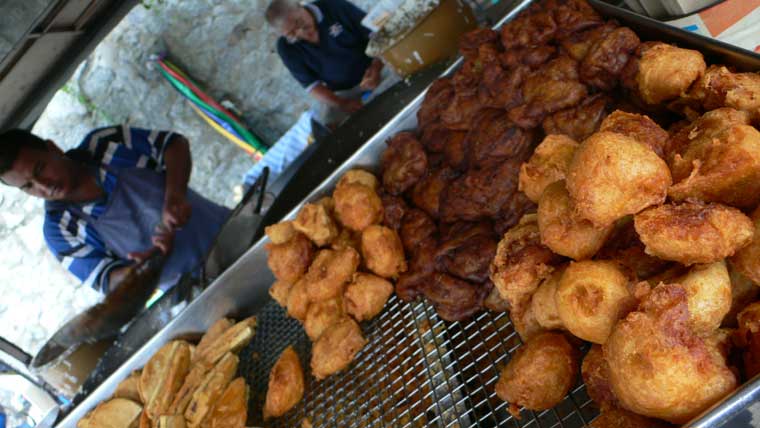 Deep fried tee kueh which has three layers, with a piece of homemade tee kueh (glutinous rice cake) sandwiched between a slice of sweet potato and another slice of yam. Chempedak goreng and the especially famous pisang raja goreng. This stall has been around for over 40yrs. In the old days they had a cute green painted cart and was easily recognisable. When you get to this slip road, on the way up to Batu Ferringhi, you will see on the left, a few stalls selling drinks, fruits and this is where they are located

Tan Jetty Pisang Goreng Stall
Location: at the entrance to Tan jetty at Pengkalan Weld. Facing the entrance to Ghaut Acheen. Open: Monday - Saturday, 2pm - 6pm . Closed : Sundays and Public Holidays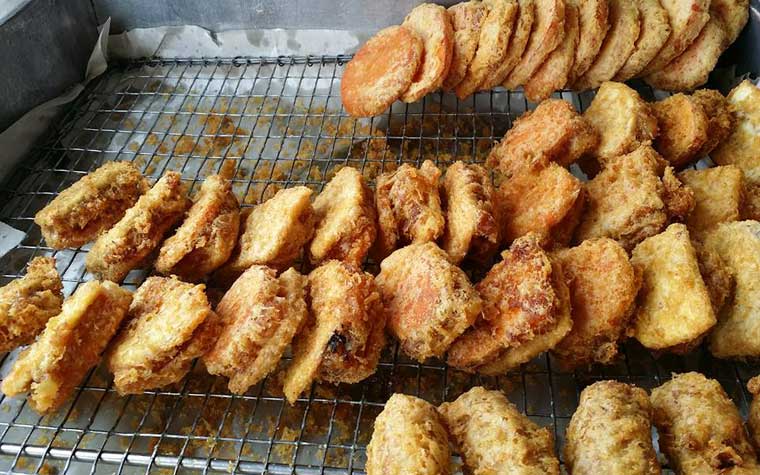 Can't really miss this place as there is usually a crowd at the stall at most times.So popular that they have their own facebook page at https://www.facebook.com/PenangFamousGorengPisang/...
Puttu
Location: At the junction of Penang Street and China Street, the puttu stall opens in the evening. The opening hours are a little irregular so if you do happen to spot the stall, seize the opportunity to sample this delicious snack. Normally the stall starts its trade at 5pm-ish.
Puttu , a delicious snack originating from South India and is made from freshly milled rice flour which is stuffed with local palm sugar and cooked in a steamer. Puttu is eaten with freshly grated coconut and additional palm sugar. It is an absolute must to eat it piping hot.. the aroma is irresistible

Apom

Location: Chulia Street, just out along the street ..in front of Crystal Guesthouse . Open: Daily 5.00pm - 11.00pm except rainy evenings.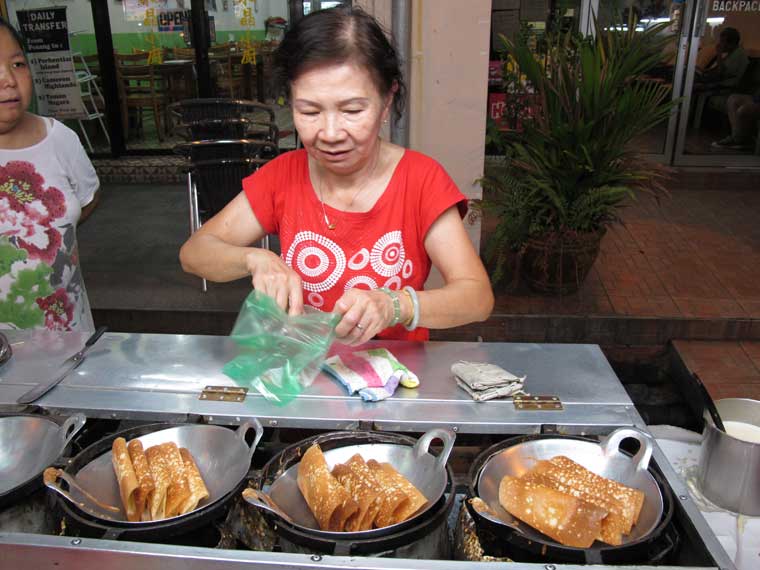 Need I say more? I mean look at that crispy, light deliciously light pancake cooked in small woks over charcoal fuelled heat and meticulously prepared. One is never enough as they say. Aunty apom's regulars stop by regularly (?!?) for a chat, some bits of local street gossip as caught in the act below
and of course takeaway..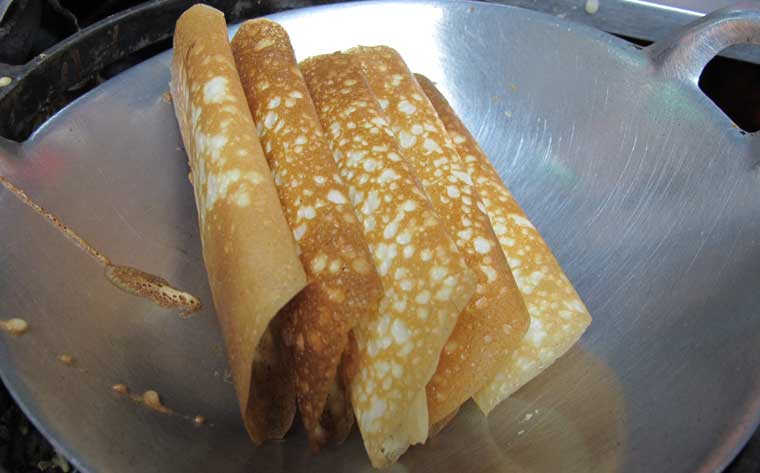 Queen Street Apam
Location: Stall in front of 49 Queen Street, George Town. Open: Tuesday - Sunday 7.30am - 12.30pm. Closed Mondays.
Breakfast is best served fresh and piping hot. Made-to-order , Aunty's apom can be eaten sweet or savoury. The savoury apom is accompanied by a light chicken curry or dhall or fish curry sauce. There's also a sweet dessert that she serves in a kind of porridge consistency.
Local Biscuits



Stall next to the Keng Kwee Chendol Stall
Location : Lebuh Keng Kwee, off Penang Rd.
Homemade biscuits from cottage industry suppliers. The one thing Penang has that's still thriving despite the monopoly of markets by big boys is the number of home produced items that are sold on the streets. Some without labels on them even.
The uncle who mans this pushcart moves around George Town and he is found at certain hours down Victoria Street as well.
Articles
Trips
Accommodation
Transports