2 Days 1 Night Low's Peak Circuit, Mount Kinabalu ~ Kinabalu Park, Sabah Borneo
---
For those who do not have enough time but are very fit and at least 16 years old
An avid climber or someone who is just starting to get your feet accustomed to your first hiking boots. Come climb with us! Mountain Torq's Via Ferrata is designed for anyone who is able to scale Mt Kinabalu and wishes to take the experience to even greater heights!
Tour Description

Destination
Borneo ~ Sabah ~ Kota Kinabalu ~ Kinabalu Park ~ Mount Kinabalu ~ Via Ferrata
Minimum no. of Persons

2
Place of Departure
Kinabalu Park
Trip Availability
Daily (Booking in advance required)
Tour Duration
2 Days 1 Night
* All timings are estimated and for reference purposes only. Actual timing will be provided prior to your departure.

Things To Bring Along
gloves ( I bought 2 sets : a pair of fingerless gloves so that I can click away on my camera and a set of pvc gloves to keep my hands warm and also protected when climbing the rockface
wind cheater; anorak; balaclava, raincoat poncho (preferably)
torchlight ( I had a hand held one which was not as effective as the headlamp- the latter free your hands to climb); cameras - manual (in case if the weather jams up the digital mechanisms), shower proof(I was determined to take that one shot and even the rain cannot stop me!!), digital, videocam (as close as you can get to being there - the video shots turned out pretty ok)
extra pair of socks; water; sunglasses; sun block (can get quite sunburnt at the top) ; mobilephone (there's signal at the top for 019 and 013 users, but sometimes when it's cold, the phone may not work..)
Waterproof backpack to store your items
Trekking or running shoes with good grip
Warm clothing/Long sleeves shirt/Hiking pants,
Tissue paper / Toilet roll
Personal toiletries, Small towel, Refillable water bottle (0.5 - 1 Litre)
High energy food such as chocolates, nuts, biscuits, sweets, energy bars
re hydration salts, altitude sickness medication
money to buy anything else you've left behind or forgotten to bring and perhaps to tip the guide after the trip
Do take note that your passport will be required for verification during registration at the Kinabalu Park office. Please bring it along with you.
Your extra luggage can be stored at Kinabalu Park HQ at a nominal fee of MYR 12 per piece prior climb.
PLEASE BE WARNED:
Safety is paramount in any outdoor sport and this is no exception.We at Mountain Torq want our guests to have the best experience without compromising on safety standards. Therefore, we would like to remind you to brief your customer the type of shoes that proper and improper to wear for Via Ferrata activity. Customers are recommended to wear shoes that are like or similar to the following shoes:  Hiking Boots  Walking Shoes (good grip)  Trekking Shoes  Sneakers / Running shoes with laces
Guest(s) must be: * Minimum 16 years old * Weigh less than 100kg * At least 1.3m in height * Meet Sabah Parks' health requirement * Do not have any physical disabilities that may restrict the guest(s)' ability to participate in the activity in a safe manner.
2 Days 1 Night Low's Peak Circuit, Mount Kinabalu
| | | |
| --- | --- | --- |
| Trip | Activity Included / Meals included | Contact |
| 2D1N Low's Peak Circuit | Walk the Torq / 2B, 1D | |
Please Note :

All rates are quoted in Ringgit Malaysia (MYR)
Exceptions to the minimum criteria will NOT be entertained by the Accommodation Provider.
This tour package brings you to Low's Peak Summit (4095.2M).
INCLUSIONS:
Activities indicated above
1 night at Pendant Hut
1 early morning Continental breakfast/supper @ Pendant Hut
1 late morning American breakfast @ Pendant Hut
1 buffet dinner @ Laban Rata Restaurant
Via Ferrata certificate for those who had successfully completed the via ferrata
EXCLUSIONS:
Packed lunch for the ascend up to the mountain
Roundtrip transportation between KK & Kinabalu Park HQ
All Sabah Parks' tariffs, permits, transport and basic Mountain Guide services fee
Sabah Park's Mountain guide overtime charges based on arrival to Timpohon Gate on the descend day:
 RM 15 per group per hour after 4pm
 RM30 per group per hour for arrivals after 5pm onwards
Extra drinks and meals which are not stated Any other items not listed in the inclusion list
Kindly note that we reserve the rights make decision, in your best interests or in the best interests of the group participating in the selected Mountain Torq Activities. In the event of cancellation of activity beyond our control such as adverse weather conditions and other similar conditions that compromises the safety of your group & Mountain Torq staff, no form of compensation will be made by Mountain Torq
Accommodation at 01 Night Pendant Hut @ Panalaban (Non-Heated Dormitory Bunk-bed with sharing bathroom & toilet). Mountain Torq provides simply furnished sleeping quarters at its two huts on Mt Kinabalu, which have been specially reserved for our guests.
Pendant Hut is where the MANDATORY pre-activity briefings are held BETWEEN 3PM and 4PM DAILY
Check in time : 2pm to 4pm
Check out time : before 12:00pm
Pendant Hut @ 3,289m a.s.l.
Exclusively for Mountain Torq's climbers, this cosy and eco-friendly Alpine-inspired hut houses guests in a dormitory-style setting or a private room for 4. Located 3,289m above sea level (a.s.l.), there is easy access to Mountain Torq's activities from Pendant Hut. From here you can try to spot your Via Ferrata pals on the Panar Laban rock face!
"Pendant Hut is slightly more basic (no heat – although climbers sleep in uber-warm sleeping bags), however, there's a bit of a summer camp vibe here" (Lonely Planet, 2010). Here you can enjoy your post midnight supper and American breakfasts, relax at the comfortable lounge area, pick up a climbing book at our mini alpine library or have fun playing board games. For dinner and other meal options, Laban Rata's canteen is but a short walk away.
Sayat Sayat Hut @ 3,668m a.s.l.

Situated 3,668m a.s.l., Sayat Sayat is a quaint, traditional mountain hut with basic facilities (no electricity) and a self-service kitchen. With 10 dormitory-style bunk beds, Sayat Sayat Hut is reserved mainly for hard core customers of Mountain Torq's other activities such as Alpine Experience, Sports Climbing, Rappelling and Mountaineering.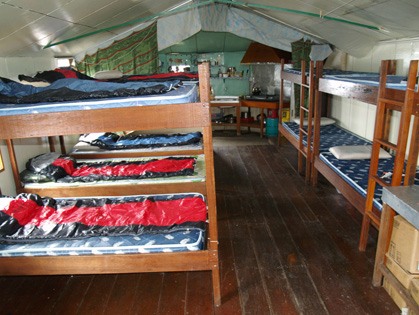 IMPORTANT MOUNTAIN TORQ POLICY FOR VIA FERRATA CLIMBERS

To ensure a smoother verification and check-in process for guests at Pendant Hut on Mount Kinabalu, please take note of the followings:
1. Complete guests' details MUST be submitted to us the latest by 7 days before the arrival date. Failure to do so, an administration fee of up to RM100 per guest will be levied for changes and updates.
2. All guests booked for Mountain Torq itinerary MUST present their original identification document during verification at Mountain Torq's Kinabalu Park Office. Guests will not be verified without these documents.
3. Guests MUST be registered and verified before 9.30 a.m. on the actual arrival date. Late registration will not be entertained without approval from Sabah Parks.
4. Guests MUST attend the compulsory Via Ferrata safety briefing and training session, between 3.00 to 4.00 p.m. There will be NO repeat briefing and NO Via Ferrata on the next day should the guests miss the mandatory briefing. Any request for reimbursement will not be entertain.
5. Guests MUST arrive at the Via Ferrata starting point before 6.30a.m. (LPC) and 7.15a.m. (WTT). Guests who miss the cut-off time will not be allowed on the Via Ferrata. Any request for reimbursement will not be entertained.
6. All Via Ferrata activities will be conducted in a group of 6 (LPC) and 5 (WTT). No private guiding is provided.
7. No partial refunds or credit will be given for unused services. In the event of inclement weather where the activity is terminated, there shall be no refund accorded. Activity cancellation is STRICTLY due to SAFETY REASON.
You are required to strictly FOLLOW the itinerary since: * Unscheduled transfers and services are CHARGABLE * Unconsumed meals are NON-TRANSFERABLE and NON-REFUNDABLE All the accommodation facilities at Kinabalu Park belong to Sabah Parks, a state government agency. Our Mountain climbing tours involve the use of these facilities/properties. In the event that these facilities are NOT available for the public to use, we will offer clients appropriate alternative facilities/properties without prior notice
Transportation:
transportation is not included in this package. However, you can try Uber or Grab
Or get a taxi to transfer you from KK town to Kinabalu Park for approximately RM270 per way
Or take the public bus from Padang Merdeka (Merdeka Square) going towards Ranau
Tour Itinerary
For those who do not have enough time but are very fit and at least 16 years old
DAY 1
08.00 am Arrive at Kinabalu Park HQ. (It takes about 1hr 45 min from Kota Kinabalu to the Park HQ)
Pre-check in at Mountain Torq's Kinabalu Park office for verification. Then head over to Sabah
Parks' Operation Counter for registration and payment. Meet your appointed Sabah Parks' mountain guide
08.30 am Start hiking up Mt Kinabalu from Timpohon Gate @ 1,866m
03.00 pm Arrive at Pendant Hut @ 3,289m and settle in
03.30 pm Get acquainted with Mountain Torq trainer and attend the mandatory via ferrata safety briefing
06.00 pm Dinner at Laban Rata's restaurant
08.00 pm Lights out
DAY 2
01.30 am Wake up and have your early morning supper at Pendant Hut
02.30 am Start hiking up to the summit with your Sabah Parks' mountain guide
05.40 am Catch the sunrise on Low's Peak
06.00 am Descend from Low's Peak to meet your Mountain Torq's Trainer
06.30 am Meet your via ferrata trainer at the 7.5 km mark for your Low's Peak Circuit via ferrata experience (intermediate via ferrata, 4 to 5 hrs, French grade AD)
11.00 am Arrive at Pendant Hut for a well earned breakfast
12.00 am Check out of Pendant Hut & descend to Timpohon Gate with your Sabah Parks' mountain guide
05.00 pm Arrive at Timpohon Gate. You may drop by at Mountain Torq's Kinabalu Park office to collect your well deserved certificates and purchase some souvenirs to bring home
Useful Tip: If you can, best to bring along your toiletries, a fresh change of clothing and a towel for a nice heated shower at Laban Rata Resthouse itself ~ since dinner will be at the resthouse anyway, a hot shower will be a welcome (be informed that pendant hut does not have hot showers). There is a shower room downstairs, just behind the TV room. Or otherwise, go to the 1st floor where there is a Ladies and Gents separate shower cubicles and toilets.
What is a via ferrata?
Experience the excitement of mountaineering within a safe and controlled environment. With a proper system of routes, devices and an experienced trainer to guide you, Via Ferrata climbing allows anyone to experience the exciting challenges of this sport under the safest of conditions

A via ferrata (or 'iron road' in Italian, plural via ferrate) is a mountain path consisting of a series of rungs, rails and cables embracing the rock face. It allows access to scenic sections of the mountains that are typically available only to rock climbers and mountaineers. The excitement, scenic beauty and personal conquest you'll experience on a via ferrata is guaranteed to give you an invigorating nostalgic experience for years to come.

There are more than 300 via ferrata routes around the world predominantly in Italy, Germany, France, Austria, Slovenia, Switzerland and Spain, and a few places in the United States and Canada. The world's highest via ferrata, Mountain Torq - which also happens to be Asia's first - can now be found on Mt Kinabalu in the east Malaysian state of Sabah.
History

The first via ferrate were built in the Dolomite mountain region of northern Italy during the First World War, to aid the movement of military troops. In 1917, the Italians (as part of the alliance formed by Britain, France and Russia) were fighting a ferocious war with the Austrians in the Dolomites. Amidst harsh winter conditions and an escalating casualty toll, both sides tried to gain control of the peaks to site observation posts and field guns. To help troops move about at high altitude, permanent lines were fixed to rock faces and ladders were installed so that soldiers could ascent steep faces. These were the first via ferrate.

In 1936, the first via ferrata created for tourists was built by the Italian Alpine Club (a club that traditionally promotes mountaineering). Today the Dolomites probably still have the greatest number of via ferrate. The wartime networks of via ferrate have been restored and many new routes added. Steel cables have replaced the ropes and iron ladders and metal rungs have taken the place of flimsy wooden constructions used by the Italian troops.
SPECIAL NOTE:

It is recommended that all climbers should have themselves medically checked before attempting any mountain climb. If you have a history of suffering from the following ailments, it is highly recommend that you should refrain from climbing: Hypertension, Diabetes, Palpitation, Arthritis, Heart disease, severe anemia, Peptic ulcers, Epileptic fits, Obesity (overweight), Chronic asthma, Muscular cramps, Hepatitis (jaundice); or any other disease which may hamper the climber.
*tip info courtesy of Sabah Parks.
What You Need To Know
The world's highest Via Ferrata certified by Guinness World Records™(Grade: French AD, Italian 3C)
If you have climbed Mt. Kinabalu before, you really need to climb it all over again, just so that you can attempt The Low's Peak Circuit! Traversing the mountain in this manner means that you get to see an entirely different and immensely beautiful side of the mountain plateau that the current summit trail will never have the chance to reveal to you.
If you found the scenery along the summit trail to Low's Peak stunning, you will find the scenery on The Low's Peak Circuit route, simply jaw-dropping picturesque.
The Low's Peak Circuit is a Via Ferrata route situated at 3,776m above sea level (a.s.l.). Designed for the brave and the active individual with above-average fitness levels, this 4 – 6 hour route with an optional summit attempt includes rest stops at scenic locations.
The route's thread-like tightrope walks and swinging planks will have you convinced that the course designers are sadistic, but that's what makes it so darn fun – testing your limits without putting your safety in jeopardy. (Lonely Planet, 11th edition)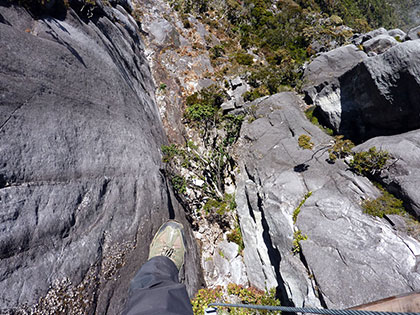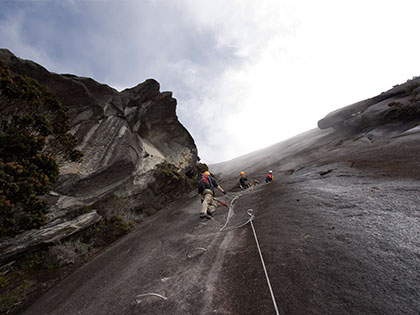 Common Questions:
IS VIA FERRATA THE SAME AS ROCK CLIMBING?
No, Via Ferrata climbing is not the same as rock climbing. While both activities occur in the same area and in the same environment, climbing the Via Ferrata is easier than rock climbing and prior experience is not required.
WHO CAN CLIMB A VIA FERRATA?
Just about anyone! You can climb Mountain Torq's Via Ferrata as long as you're aged between 10 and 70 with a minimum height of 1.3m. You do need to be fit, healthy and preferably not afraid of heights either. The Via Ferrata really is an experience for anyone who wants to try climbing a mountain in another manner.
DO I NEED ANY CLIMBING EXPERIENCE?
Not at all! If you can climb a ladder, you can climb Mountain Torq's Via Ferrata
CAN I MISS THE PRE-ACTIVITY BRIEFING CONDUCTED THE DAY I ARRIVE?
All of our participants are required to attend this mandatory pre-activity briefing and familiarization session. Our sessions start between 3pm and 4pm. Late arrivals may not be considered eligible to participate in the activity the next morning. This is really for your own safety, be it if you are a first time climber or an experienced mountaineer.
HOW CAN I ENSURE THAT I ARRIVE AT PENDANT HUT BY 3PM?
So as long as you condition your body before coming (See Trip Preparation) and ensure that you start hiking up from Timpohon Gate by 8:30am and no later, you will have a 90% chance of arriving at Pendant Hut in time to have a cup of tea before attending the briefing session.
WILL THERE BE SOMEONE TO GUIDE ME?
Yes, you and your group will be assigned an experienced Mountain Torq trainer. Our experts will be there to give you a full safety briefing and train you on the proper use of the safety devices. They will also climb with you, provide tips on negotiating difficult obstacles and point out spectacular sights along the way.
CAN I CLIMB THE VIA FERRATA WITHOUT A MOUNTAIN TORQ TRAINER?
No. Sabah Park safety regulations require that Via Ferrata climbers are to be accompanied by a Mountain Torq trainer at all times.
IS THE MOUNTAIN TORQ TRAINER ONLY FOR ME OR MY GROUP?
Depending on the size of your group, you do have to be prepared to make friends and join the adventure with other Via Ferrata climbers.
WHAT IS THE MAX.NO. OF PEOPLE WHO WILL BE CLIMBING THE VIA FERRATA WITH ME?
The maximum number of climbers per group is 6.
DO I REALLY NEED A MOUNTAIN GUIDE EVEN ON MT KINABALU?
Yes. Sabah Park safety regulations require that climbers and hikers are to be accompanied by a Sabah Park mountain guide during your ascent and decent on the main hiking and summit trail. Our Mountain Torq trainer will be with you only during your Mountain Torq activities.
WHAT DOES THE VIA FERRATA ACTIVITY PACKAGE INCLUDE?
With Mountain Torq, you can enjoy:
Complimentary use of all required safety devices: harness, lanyard and helmet
Via Ferrata familiarisation for all participants
Guiding services of our Mountain Torq trainers
WHAT TIME DO I START MY VIA FERRATA ACTIVITY?
Our start time is between 5.30am and 7.30am
WHERE DO WE MEET THE MOUNTAIN TORQ TEAM FOR THE ACTIVITIES?
On the day of your arrival, we will meet you at Pendant Hut where you will undergo a mandatory briefing and familiarization session starting between 3pm and 4pm. There, we will tell you the exact meeting point and meeting times for the activities that you have signed up for and provide a practical session with the full Via Ferrata safety gear.
WHAT IF I WANT TO CLIMB THE VIA FERRATA AT THE BREAK OF DAWN?
Due to safety reasons, we do not bring participants up on the Via Ferrata before day break.
WHAT ACTIVITIES CAN I ENJOY BESIDES THE VIA FERRATA?
other activities such as sports climbing, alpine rock climbing, rappelling and basic mountain experience.
ARE YOUR ACTIVITIES SAFE?
As an advocate for responsible climbing, Mountain Torq ensures that safety standards are adhered to at all times. It is mandatory that our trainers undergo regular skills certification and upgrading with training standards and syllabus endorsed by the International Climbing and Mountaineering Federation (UIAA). Regular safety checks and maintenance are also conducted on the Via Ferrata equipment. So all you need to do is focus on enjoying yourself.
HOW DO I TAKE PART IN MOUNTAIN TORQ ACTIVITIES?
To ensure that you get a guaranteed space, we strongly encourage advanced bookings. You can make a booking for our activities here. If you require accommodation together with our activities, we can recommend you to our authorized agents who'll be able to assist in making all the necessary arrangements.
WILL I BE ABLE TO COMPLETE EVERYTHING?
We recommend a minimum of 3 days 2 nights to be able to start enjoying your trip on Mt Kinabalu. The beauty and grandeur of Mt Kinabalu can only be appreciated when you are able to spend at least 2 days at the top of the mountain, especially with a hot drink in your hands, the scenery around you and the sounds of nature. We understand that most people will say that a 2 Days 1 Night trip is good enough to stand on the summit and experience the via ferrata, but they miss out on enjoying the chance to enjoy the beauty and peace the mountain has to offer. Also, most importantly, they also do not realise that on a 2 Days 1 Night trip, they will return back to Kota Kinabalu very late at night hungry, Exceedingly tired, and they will need more days to recover from their trip.
WHERE IS MOUNTAIN TORQ VIA FERRATA/ALPINE SPORT CLIMBING LOCATED?
Mountain Torq is located above 3200m on Mt. Kinabalu's Panalaban rock face. To get there, it is a 4- 7 hour hikefrom Mt Kinabalu Park Headquarters. Once you reach the Panalaban rock slab, which houses a group of mountain lodges including our own Pendant hut, a short 15 to 20 min walk will lead you to the start of the via ferrata. To get to the alpine sport climbing site, you'll have to do a short climb through part of the via ferrata route first.
HOW DO I GET TO PENDANT HUT?
The 5 to 7 hr hike up to Mountain Torq's Pendant hut (3,289m a.s.l.) starts from Timpohon Gate (1866m a.s.l). At the start of the trail, you'll be greeted by a signboard listing the record breaking feats of Climbathon runners who are able to run up and down the mountain (to the summit no less!) in less than 3 hours! But do not be deceived, because we think that they are super humans too! Your intense 6km hike will bring you through a very wide range of habitats, from virgin tropical lowland and hill rainforest to tropical mountain forest, sub-alpine forest and alpine scrub.
You may opt to hike up Mt Kinabalu starting from the Mesilau Gate, located about 30 mins drive away from Kinabalu Park Headquarters. However, this trail is also 1.5 km longer than the one that begins from Timpohon Gate. It may be a better idea to descend via that route if you truly wish to experience the Mesilau Trail. Do note that there are quite a few additional costs (transport, guide & accommodation) if you choose to attempt this trail. You either have to make the necessary arrangements with your travel provider or at the Park Headquarters. Mountain Torq is unable to advise further if you wish to utilise the Mesilau Route.
WHY IS KINABALU PARK A UNESCO WORLD HERITAGE SITE?
Short version – This is the birthplace of lots of plants and lots of other stuff we can't pronounce. It also is home to most of Borneo's plants, animals, amphibians and invertebrates, all in 1 place! Longer version – Kinabalu Park ( which contains Mt Kinabalu too) has been designated as a Centre of Plant Diversity for Southeast Asia . The site has a diverse biota and high endemism. The altitudinal and climatic gradient from tropical forest to alpine conditions combine with precipitous topography, diverse geology and frequent climate oscillations to provide conditions ideal for the development of new species. The Park contains high biodiversity with representatives from more than half the families of all flowering plants. The majority of Borneo's mammals, birds, amphibians and invertebrates (many threatened and vulnerable) occur in the Park.
WHAT DO I NEED TO DO TO PREPARE FOR MY MOUNTAIN TORQ / Mt Kinabalu adventure?
You will be climbing a major mountain and you are strongly advised to be in a physically fit condition. Here are some suggestions from the Alpine Guides Association "The best preparation for mountain sports always involves goodamount of cardiovascular exercise outdoors (running, cycling, mountain biking etc.) and getting out for long days in the hills whenever possible. If you do the amounts of regular weekly cardiovascular exercise indicated on the fitness level for your course during the 2-3 months leading up to your trip, you should be reasonably well prepared. Don't forget to read the trip descriptions/ itinerary carefully to find out what else is involved too, so you can tailor your preparation accordingly.
MOUNTAIN TORQ recommends all customers to engage in cardiovascular sports at least 2 twice a week, with each session being a minimum of 2 hours in duration. The exercise program should commence at least 2 months before you start your Mt Kinabalu adventure.
MOUNTAIN TORQ will provide all technical safety equipment required for your activities

Can I bring my own camera?
We do not recommend guests to use their own camera during the Via Ferrata due to safety reasons.
What does the via ferrata/alpine sport climbing package include?
 Free rental for all safety devices: harness, lanyard, helmet etc. (**including a log book for the alpine sport climbing)
 Via ferrata familiarization for all participants. Alpine sport climbing briefing
 Guiding services of our via ferrata/alpine sport climbing Trainers
Cancellations and changes
1 Cancellations of reservation
1.1 You agree that notice of cancellation of your selected Mountain Torq Activities must be made in writing to MT.
1.2 You agree that once the balance of the total price of the selected Mountain Torq Activities has been paid, the said balance paid is nonrefundable
upon your cancellation of the selected Mountain Torq Activities.
1.3 Upon cancellation, you agree that you shall be liable to pay a fee to cover the estimate of cost and expenses incurred by MT in the terms of the schedule set out hereunder. This is expressed as a percentage of the total price of the selected Mountain Torq Activities and is calculated as follows:
PERIOD OF NOTICE CANCELLATION FEE
45 to 31 days 50% of total price of the selected Mountain Torq Activities
30 to 15 days 75% of total price of the selected Mountain Torq Activities
Less than 14 days 100% of total price of the selected Mountain Torq Activities
1.4 You agree that all administrative fees, taxes, charges or levies imposed by any government, financial institutions, credit /debit agencies,banks, or their agencies are to be borne by you.
1.5 If the reason for cancellation falls within the terms of any holiday insurance policy which you may hold, then any such charges may, subject to the terms of your insurance policy, be refunded to you by your insurance company. You agree to settle any outstanding fees owing to MT prior to making any claim from your insurance company.
1.6 You agree that if any refund is due to you by MT, all administrative fees, taxes, charges or levies imposed by any government, financial institutions, credit /debit agencies, banks, or their agencies shall be borne by you.
2 Change of reservation
2.1 You agree that any notice of any changes to your selected Mountain Torq Activities must be made in writing to MT,
2.2 You acknowledge that if after your reservation has been confirmed and you wish to change to an alternative date or time slot, transfer your reservation to someone else who satisfies all the conditions applicable to the activity/package or you wish to change to a different Mountain Torq Activity, you may do so provided the alternative selected Mountain Torq Activity is available. You agree that a penalty fee of up to RM50.00/pax shall be charged for any revision or alteration made to a confirmed reservation. In the event the revision is to a Mountain Torq
Activity of a lesser value, MT will not refund you the difference between the price of the original selected Mountain Torq Activity and the newly selected Mountain Torq Activity. A fee of up to RM50.00 will be charged for any revision or alteration made to a confirmed reservation.
3. Other details and conditions
3.1 Any other events or activities that you elect not to take or participate in. You agree that facilities may vary from place to place and meals may vary in style.
3.2 You further agree and acknowledge that MT cannot guarantee special meal requests nor will it assume any responsibility or liability if your special meal requirements are not fulfilled.
3.3 You agree and acknowledge that your eligibility for and the allocation of MT's accommodations to you will be based on the Mountain Torq Activities selected, availability and at the sole discretion of MT.
3.4 You agree that you are responsible for all travel arrangements and costs to/from the point of activity/package commencement.
3.5 You must be aged between 10 to 70 inclusive, less than 100kg, at least 1.3m in height and without any physical disabilities that may restrict your ability to participate in the activity in a safe manner. Notwithstanding the foregoing, MT may, in its absolute discretion, and, in exceptional circumstances, give confirmation of acceptance of a person outside these limits and you shall not dispute or question MT's decision on this matter.
3.6 You agree and undertake to sign the relevant MT indemnity / assumption of risk forms upon reserving the selected Mountain Torq Activities. In the situation where no forms have been submitted to MT, you expressly agree that MT will not be held accountable for any incidents, accidents or misdoings incurred by you or MT.
3.7 You agree and undertake to advise MT on any medical conditions or physical disability requiring special attention before you make your reservation. If you do not advise MT at this stage, you agree that MT may refuse to accept your reservation. If the medical conditions /physical disabilities are made known only after the reservation has been confirmed and/or at the point of the activity, you agree that MT reserves the right to refuse you from participating in the selected Mountain Torq Activities without any refund or reimbursement.
3.8 You acknowledge and agree that there may be occasions where MT's activity trainer has to make a decision in your best interests or in the best interests of the group participating in the selected Mountain Torq Activities. You agree to comply with the authority and decisions of MT staff and the laws of the country in which you are traveling. If you do not so comply or you are not compatible with the general enjoyment and well being of other participants, or you create threats to the safety of the group, or exhibit inappropriate behavior, whether verbal or physical, you agree that MT reserve the right to refuse to let you continue with your selected Mountain Torq Activities without refund or reimbursement. In such cases, you agree to be responsible for your own repatriation and related costs and have no claims against MT.
3.9 You agree to comply with MT rules and regulations relating to any accommodations provided by MT. If you do not so comply and exhibit any inappropriate behavior whether verbal or physical at the accommodations provided by MT, you agree that MT reserves the right to refuse to allow you to continue the remainder of the stay at the said accommodations without any refund or reimbursement. In such cases, you shall be responsible for your own repatriation, cost of alternative accommodation and related costs and have no claims against MT.
3.10 You shall be responsible for any costs incurred as a result of damage or excess cleaning fees related to the accommodations provided to you as part of the selected Mountain Torq Activities. You shall immediately report any pre-existing damage to the accommodations provided to MT staff as soon as it is discovered.
3.11 You hereby agree that MT staff or representatives may take photographs and films of you while you are participating in the selected Mountain Torq Activities and that the said photographs and films may be used in MT brochures and/or advertising or publicity material without obtaining any further consent from you or payment to you in respect of such photographs and/or films.
3.12 In the event you have any complaints in respect to MT services or the Mountain Torq Activities, you must inform MT's most senior staff on site. If the matter cannot be resolved after MT staff's best endeavors to do so during the duration of the selected Mountain Torq Activities, your complaint may be made in writing to MT as soon as it is reasonably possible after returning from the Mountain Torq Activities but within 28 days thereof so that your complaint can be investigated. You acknowledge and agree that any claims made after the 28 days period will not be considered by MT.
3.13 You are strongly recommended to take out comprehensive insurance cover for cancellation, medical expenses, personal accident, personal baggage, money and public liability before reserving any Mountain Torq Activities. You should check that the insurance covers all of the activities that you will be participating in. Some policies exclude certain adventure activities and some policies cover against loss of deposit or cancellation fees from the date of confirmation of your reservation. This should be arranged at the time of reserving the selected Mountain Torq Activities.
3.14 You acknowledge and agree that in the event of your withdrawal from the selected Mountain Torq Activities after the commencement of the Mountain Torq Activities as a result of illness or whatsoever reasons, you shall not be entitled to any refunds for any absence in participation from the said activities.
3.15 You acknowledge that transportation to and from the site of the Mountain Torq Activities, all taxes, visas, permits, insurance, beverages, meals not detailed in the itinerary / voucher, tips, items of a personal nature and excess baggage and any other items not covered in MT's quotation is not included in the price quoted. .
3.16 You agree that MT shall not be held responsible under any circumstances whatsoever including without limitation, unfavorable weather conditions, or in the event any of the Mountain Torq Activities is cancelled or amended by you at any time on the basis of unfavorable weather conditions. You acknowledge and agree that the relevant cancellation fees will apply under these circumstances.
3.17 MT reserves the right to change or cancel the activities if the safety of the customers and / or MT staff will be compromised. You agree that no form of compensation will be made by MT.
4. Exclusion
4.1 To the extent permitted by law, MT shall not be liable to you by reason of any representation or any implied warranty, condition or other term or any duty at common law, or under the express terms of this Agreement, for any loss, damage, death, personal injury, liability, legal fees, costs, claims, damages and expenses of whatsoever nature (whether caused by the negligence of MT, its servants or agents or otherwise) which arise out of or in connection with the provision of the Mountain Torq Activities and your participation in the Mountain Torq Activities.
4.2 Where MT supplies in connection with the provision of the Mountain Torq Activities any goods or services supplied by a third party, you acknowledge that MT does not give any warranty, guarantee or other term as to the quality, fitness for purpose of otherwise, but shall, where possible, assign to you the benefit of any warranty, guarantee or indemnity given by the third party supplying the goods or services to MT.
4.3 You agree that MT shall have no liability for any loss, damage, costs, expenses or other claims for compensation arising from instructions supplied or reservations made by you which are incomplete, incorrect, inaccurate, illegible, out of sequence or in the wrong form, or arising from your late arrival or non-arrival or any other fault of yours.
5. Indemnity
5.1 You undertake and agree to fully and effectively indemnify MT and keep MT indemnified for and against all loss, damage, liability, proceedings (civil or criminal), including legal fees and costs, claims, damages and expenses of whatsoever nature howsoever suffered or incurred by MT as a direct or indirect result of the your breach of any warranty and obligations contained in this Agreement, including by way of example only, all costs, claims, suits, actions, proceedings, damages, losses, penalties, fines, liabilities and expenses of investigation and defense of any claim, including legal fees and disbursements, consultant fees and disbursements, consequential or otherwise, which may be brought against MT in respect of your participation in the selected Mountain Torq Activities.
6. Governing laws and jurisdiction
6.1 This Agreement shall be governed by and construed in accordance with the laws of Malaysia regardless of your nationality. You agree to submit to the exclusive jurisdiction of the Malaysian courts.
6.2 If you are unsuccessful in any legal action instituted against MT, you agree to pay all costs including but not limited to, attorney/client costs.
6.3 You agree to use your best efforts to negotiate in good faith and amicably any dispute that may arise out of or related to this Agreement.
7. Severance
7.1 If any term or condition of this Agreement is held invalid or unenforceable by any court of competent jurisdiction in Malaysia, that term or condition shall be deemed to be rewritten to give effect to the same purpose within the permitted limits of the law. The validity and enforceability of the remainder of this Agreement shall not be affected.
8. General
8.1 The terms and conditions detailed herein is the complete and only agreement between you and MT and supersede all prior negotiations, representations and prior written or oral understandings. No variation, modification or alteration of any of the terms and conditions herein shall be of any effect unless evidenced in writing and signed by and on behalf of MT by a duly authorized representative.
8.2 This Agreement will be binding upon and inure to the benefit of MT and you and MT's and your respective successors and assigns. You agree that MT shall be entitled to assign, transfer or novate its rights and/or obligations under this Agreement to any party. You agree that you shall not have the right to assign, sell, charge, transfer, pledge or otherwise grant any other interest in this Agreement to any third party without the prior written consent of MT.
8.3 The failure of MT to enforce at any time or for any period of time any provision of this Agreement will not be construed to be a waiver of such provision or of the right of MT thereafter to enforce each such provision and shall not be construed to be a waiver of any subsequent breaches by MT in complying with any such provision of this Agreement.
8.4 You acknowledge that every effort is made to ensure activity and price accuracy at the time of MT's marketing collaterals and website going to print, however MT cannot be held responsible for printing or typographical errors, or errors arising from unforeseen circumstances.
8.5 Whenever the singular number or reference to the singular is used in this Agreement and when required by the context, the same shall include the plural and vice versa. The masculine gender shall include the feminine and neuter genders and vice versa and the word "person" and/or "it" shall include a corporation, firm, partnership or other form of association.
8.6 Any notice, request, demand or statement herein required or desired to be given by you to MT shall be in writing and forwarded to the company address.